Did the T-Rex have feathers? - Reading in the news Thu 8 June
08 June 2017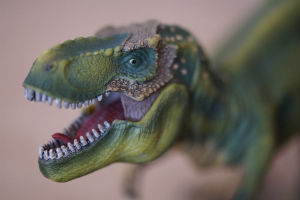 Here is today's round-up of media coverage featuring the University of Reading.
Did T-Rex have feathers?: Dr Manabu Sakamoto (Ecology and Evolutionary Biology) explained to BBC Radio Berkshire (1 hr 46 mins 55 secs) the findings of a new study that shows the T-Rex did not have feathers, despite previous theories that it did.
Sacrifice and suicide bombers: Dr Christina Hellmich (Politics and International Relations) writes a piece for Times Higher Education about the rationale behind suicide bombing, as an increasing number of terror attacks take place around the world.
Fine Art Degree show: Professor Susanne Clausen (Art) gave an insight on BBC Radio Berkshire (1 hr 53 mins 16 secs) into the Fine Art Degree Show – Condensed Milk – currently on at the University. Get Reading also lists the show as one of the highlights in the Reading area this weekend.
Greenland ice cap melting: Professor Jonathan Gregory's (Meteorology) paper on runaway melting on the Greenland ice cap is referenced in a piece by Buffalo News on the threats to the ice cap in the next century. Read the full Nature paper here.
Reptile zoo: Wokingham Paper reports on the RUSU Says Relax scheme during the exams that allowed students to meet reptiles, including snakes and lizards (see attachment).
Food concept award-winners: Veggie and vegan food innovation by students (Food and Nutritional Sciences) at the University of Reading was recognised with the top prize at the Ectotrophelia UK finals on Wednesday, reports Food Ingredients First. The gold prize was awarded for a new type of sushi that uses cauliflower instead of rice and contain two of your 'five a day'.
Other coverage