We've got a Hung Parliament, so what now? - Reading in the news Fri 9 June
09 June 2017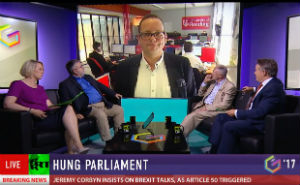 Here is today's round-up of media coverage featuring the University of Reading.
General Election: Dr Mark Shanahan (Politics and International Relations) spoke to Russia Today about the next steps for Theresa May following the General Election, and answered a question from studio guest Ken Livingstone. Dr Shanahan also offered insight to BBC Radio Berkshire all night as a guest on the show. Elliot Smith, president of the University of Reading Conservative Association, spoke to LBC as the result of the election became clear in the early hours of Friday. BBC World Service radio and BBC News also digested the results, pointing to the Reading East seat, which hosts the University, as summing up the trend seen in voting.
Archaeology project: BBC Berkshire Online reports on the archaeological analysis of Forbury Hill, in Forbury Gardens, Reading. The team will now carry out radiocarbon analysis on the sample taken from the mound to date it. This was the last in a series of 20 mounds around the UK being investigated by the team. Read our story on the previous mound in Slough here.
VC on the election: An opinion piece by University of Reading Vice-Chancellor Sir David Bell appeared on the homepage of the Times Higher Education website on polling day.
Emerging leader: Perspective runs an Emerging Leader feature on Henley Business School alumni Faisel Choudhry, discussing his MBA dissertation on the impact of leadership and emotional intelligence on organisations. He is currently working at the Bank of England and previously worked with the Royal Household.
Food innovation: Further coverage of the Gold prize won by Food and Nutritional Sciences students for their cauliflower sushi concept in Food Manufacture and Food Ingredients Brasil. Read our news story here.
Other coverage
The Reading Chronicle also runs a picture story on the reptile zoo organised by RUSU during the exams (see attached).
Professor Cathy Creswell is quoted in a Healio article on the treatments available for child anxiety disorders and why some parents are reluctant to access them.
Clonter Opera is looking for a new artist in residence. Art in Liverpool runs a piece on a previous artist to take up the post: Wayne Hart, who studied Typography at Reading and is now a visiting lecturer.
Nova Now reports on the study by Professor Jeremy Spencer that showed drinking champagne could increase memory and help prevent brain disease.