The youth 'wot won it', Poldark, and the inspirational woman of the year award: Reading in the news - 12 June
12 June 2017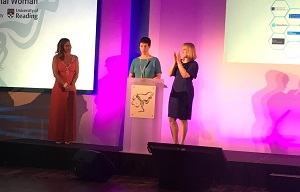 General Election: The Observer looks at the Reading East constituency and the effect of students at UoR on the result which saw the Labour candidate Matt Rodda defeat the incumbent Conservative Rob Wilson. RUSU President, Ben Cooper, and former RUSU digital manager Willow Colios are both quoted; and the article mentions the visit of Prof Noam Chomsky in May.
BBC South also covered the effect of students on the election, and spoke to four UoR students to get their perspectives on the result, and Dr Mark Shanahan (Politics) joined BBC Berkshire's Breakfast Show to discuss the election and the weekend's political news. Also, Prof Jonathan Golub (Politics) is quoted in an article for USA Today affiliate Waukesha Now.
Archaeology project: Further reports in the International Business Times, Slough Express, and Phys.org on the archaeological analysis of Forbury Hill, in Forbury Gardens, Reading. The team will now carry out radiocarbon analysis on the sample taken from the mound to date it. This was the last in a series of 20 mounds around the UK being investigated by the team. Read our story on the previous mound in Slough here.
Venus awards: The finals of the 2017 Venus Awards have been held, with the University of Reading sponsored the award for inspirational woman of the year. A Reading Chronicle report ahead of the final mentions the support of UoR.
Chinese Kazakhstan trade: CGTN interviewed Yelena Kalyuchnova (HBS) about trade relations between China and Kazakhstan, following a surge in the first four months of 2017.
Mandela Washington fellow: A former UoR student has been nominated for the Mandela Washington fellowship for young African leaders, reports Kessben FM.
Poldark: Dr Faye Woods (FTT) is quoted in an article in Herald Scotland ahead of the third season of BBC's Poldark.
Other coverage: