The Queen's speech, Bodger and badger, and a low cal sushi winner: Reading in the news - 13 June
13 June 2017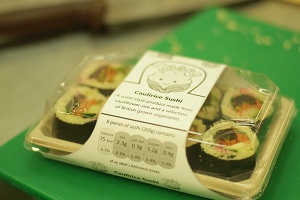 Queen's speech: Prof Kate Williams (History) spoke to BBC News about the delayed Queen's speech at the start of Parliament. Williams spoke about the impact to the Royal household, and mentioned that the 'Goatskin vellum' is actually not made with goat.
Archaeology project: Further reports on the archaeological analysis of Forbury Hill, in Forbury Gardens, Reading, on BBC Berkshire (1hr 2mins in), Archaeology Magazine, and Archaeology News Network. The team will now carry out radiocarbon analysis on the sample taken from the mound to date it. This was the last in a series of 20 mounds around the UK being investigated by the team. Read our story on the previous mound in Slough here.
Art Professor: A BBC Radio 3 programme looked at the lives of abstract artists Patrick Heron and former Professor of Painting, Terry Frost. UoR is mentioned at about 34 mins in.
Pre-industrial climate: An article co-written by Prof Ed Hawkins (Met) in the Conversation looks at what a pre-industrial climate looked like, and why it is important to understand it in relation to current measures of man-made global warming. The article has been reproduced in Millennium Post, and Peopleread.net. Read about Prof Hawkins' work here.
Bodger and Badger: An obituary for cult entertainer Andy Cunningham who starred in the TV series Bodger and Badger, in the Guardian. The article notes that Cunningham completed a degree at the University of Reading.
Low cal Sushi: Further coverage of a group of students who won the national Ecotrophelia competition for food product development with their low calorie sushi, in Food and Drink Technology. Read our news story here.