Heat wave, climate change, and does bacon really cause cancer? Reading in the News - 20 June
20 June 2017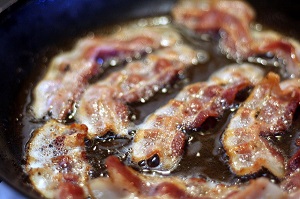 Bacon: Dr Gunter Kuhnle (Food) appears in Channel 4's How to Stay Well to discuss his research into bacon and nitrates, and the claim that bacon causes cancer. Read a blog by Dr Gunter Kuhnle here.
Wind power: Horizon on BBC 2 considered what you need to know about the future. Their piece on wind power includes data from the Meteorology Department.
Also, further coverage of research which has found that the UK wind power sector didn't suffer during winters as previously thought. Visiting Professor Brian Hoskins (Met) is quoted in Windtech International and Windpower Engineering.
Turbulence: Prof Paul Williams' (Met) research on climate change-induced turbulence is mentioned in articles in International Business Times and Cetus News. The stories cite Prof Williams' work following injuries sustained by passengers on an Eastern Airlines flight caused by turbulence.
Heatwave: GetReading quote Dr Roger Brugge (Met) following a spell of hot weather around Berkshire
African Leader awards: Henley Business School Africa have sponsored the 7th All Africa Business Leaders Awards, reports Biz Community. Jonathan Foster-Pedley, Dean of HBS Africa, is quoted.