'Truly inspirational' funeral director lands inaugural Thames Valley women's award
22 June 2017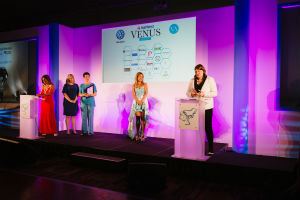 A driven female entrepreneur who set up an affordable funeral company to help families struggling financially has been named a winner at the inaugural Thames Valley Venus Awards.
Lucy Coulbert, who directs The Individual Funeral Company she founded in Oxford, was handed the Inspirational Woman of the Year award – sponsored by the University of Reading – at the Venus Awards finals. The ceremony was held at the Madejski Stadium in Reading on Friday 10 June and was attended by more than 300 finalists and sponsors in all 15 categories.
The NatWest Thames Valley Venus Awards 2017 seek to recognise the contribution of women in business to the local, regional and national economy. This was the first year they have been held in the Thames Valley area, and the competition attracted 1,400 nominations and 320 applications.
"The panel at Reading University really took it seriously which is what made winning this award so special." - Lucy Coulbert, Director of The Individual Funeral Company
Ms Coulbert was chosen by a panel of judges at the University of Reading after completing a thorough interview process alongside the two other finalists in the category. She set up Coulbert Family Funerals in September 2015, offering affordable funerals for families that are struggling financially. They are referred to advice centres and charities as well as receiving support from the company itself.
Ms Coulbert said: "I am still quite shocked at winning this award as the other nominees and finalists were amazing. The panel at Reading University really took it seriously which is what made winning this award so special."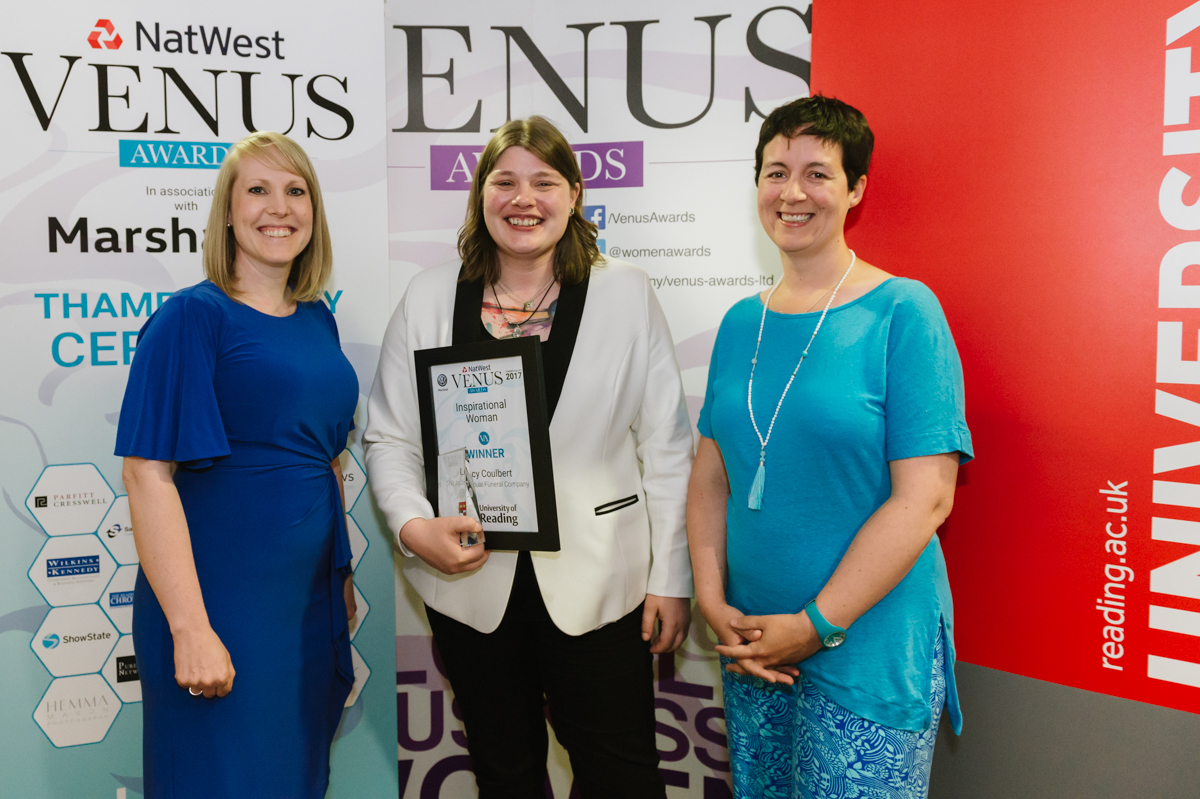 The other two finalists in the Inspirational Woman of the Year category were:
Angela Cox, who runs 'A Big Girl's Journey to Lean' group on Facebook to help others lose weight after shedding eight stone herself. The group now has 17,500 members.
Heidi Strickland-Clark – Co-founder of FastTrack Fit Camp in Wokingham. The outdoor bootcamp was set up to help people focus on their health and wellbeing.
'Motivated and passionate'
The trio of finalists were invited to the University where they were interviewed by senior figures and academics, including joint Dean for Diversity and Inclusion Professor Ellie Highwood. They were asked about their respective ventures and how they have sought to inspire others.
Fiona Blair, head of Marketing, Communications and Engagement at the University of Reading, said: "Congratulations to Lucy Coulbert for being a very deserving winner of this inaugural prize. We felt the energy and professionalism she has poured into her business to help families who need a helping hand at the most difficult time of their lives was exceptional and truly inspirational.
"Our three finalists saw off competition from some very strong candidates. All three are highly motivated, extremely passionate about what they do and all have a deep-rooted desire to make a real difference in the world around them."
Also representing the University at the finals, but missing out on the Manager of the Year prize, was graduate Dorothy Dix, who is co-founder and CEO of local charity Creating Better Futures. Read more about her story on the University of Reading Alumni blog.