Education lifeline for child refugees - Reading in the news Fri 30 June
30 June 2017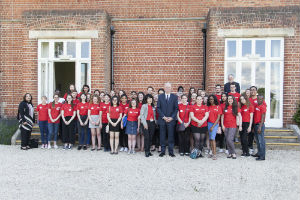 Here is today's round-up of media coverage featuring the University of Reading.
Child refugee support: Voluntary work by students at the University of Reading through the Students in Schools scheme has led to foreign pupils in local schools, some of whom are refugees from Syria, making dramatic progress with their studies and English-speaking. ITV Meridian visited Prospect School to speak to those involved. Read our news story.
Virginia Woolf conference: The University of Reading is hosting the Virginia Woolf World of Books conference this year, 100 years after she founded the Hogarth Press with her husband Leonard. Feminist literature lecturer Dr Madeleine Davies (English Lit) spoke to BBC Radio Berkshire (2 hrs 6 mins 28 secs)about Virginia Woolf and the Hogarth Press to promote the conference, plus a series of other public events arranged at the University by Dr Nicola Wilson. Read more about the events here.
Brexit and education: The impact of political events on education was the subject of a feature in Times Higher Education, including reference to a piece written for THE by Vice-Chancellor Sir David Bell. Read Sir David's full article.
Dairy farming technology: The University is helping trial the use of satellite data to inform dairy farming (Environment). The PASQUAL (Monitoring and prediction of PASture QUAlity and productivity from satellites) project is reported by DMN Newswire.
Other coverage
Reading Chronicle reports that three rugby players from the University of Reading have been called up to the Berkshire squad for the County Championship.