University of Reading Malaysia celebrates first anniversary of official opening
01 March 2017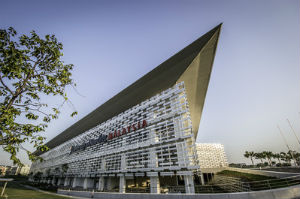 A year since the official opening, staff and students have come together to celebrate the first anniversary of the University of Reading Malaysia (UoRM).
Celebrations will be held at the Educity campus in Iskandar from Wednesday 1 March and will be attended by University of Reading Vice-Chancellor, Sir David Bell.Home to UoRM and Henley Business School Malaysia, the campus was inaugurated last February by the British High Commissioner to Malaysia, Vicki Treadell CMG, MVO.
During his visit to UoRM, Sir David will unveil a commemorative plaque signed by Ms Treadell, who was also presented with an honorary degree as part of last year's official proceedings.
Much has been accomplished over the past year - UoRM has:
Trebled student numbers: the number of students on campus has increased from 200 in February 2016 to an estimated 600 by end of April 2017. When the campus reaches capacity in around seven years' time, 2,500 students are forecast to be enrolled at UoRM.
Expanded the number of programmes on offer: eight new programmes at undergraduate, postgraduate and PhD level have been accredited by the Malaysian Ministry of Education in the past year, many gaining external endorsement from professional bodies, such as from the Malaysian Board of Valuers & Estate Agents, RICS (Royal Institute of Charters Surveyors) and RISM (Royal Institute of Surveyors Malaysia) for Henley Business School's Real Estate programme. In addition, UoRM has successfully launched the Henley MBA, with a total of 39 experienced managers studying part-time for the MBA programme.
Elected its first Student President and Executive Team: Elections were held for UoRM's first ever executive student body, Reading University Malaysia Student Association (RUMSA). The new President and Executive Officers are now in post and developing plans for the future.
Established a growing research programme: UoRM staff are currently engaged in 71 research projects; to support research, a new weekly seminar programme has been launched and features presentations from academics from across the globe; new collaborations with regional, national and international partners have been developed that aim to make a positive impact on research development and socio-economic growth in the region.
Developed the skills of its teachers: Academic staff have benefitted from a dedicated Teaching and Learning fund, additional specialist professional training and a Quality Assurance Seminar Series to ensure they are well equipped to bring out the best in their students and help them to excel in their studies.
Expanded the student mobility programme: UoRM has welcomed nine students from the UK to study at the Malaysian campus over the past year, with 21 UoRM students coming to study at the University of Reading UK.
Sir David Bell said: "The launch of the University of Reading Malaysia in 2016 was one of the most important milestones in our 90 years as a university and one of my proudest days in my time as Vice-Chancellor.
"Our long-term investment in Malaysia shows our unreserved support for, and commitment to our education and research, our staff and students from wherever in the world they come.
"Staff and students at UoRM are equal partners, friends and colleagues. They play a vital role in the life of the wider University. We are proud of the energy they bring to the Reading and Henley family.
"I am proud to return to campus today to share in the successes of the past year and look forward to delivering our ambitions for the future."
Professor Tony Downes, UoRM Provost and CEO said: "We are proud of the progress the University of Reading Malaysia has made this year - thanks to the hard work of our staff, students and supporters here and in the UK.
"Our work is not yet finished however, in fact this is just the beginning. As UoRM looks to grow, further establish its teaching and research strength and expand its programmes we must continue to work hard to shape the future of our new campus.
"This summer, we will see our first students graduate - I am confident they are the first of many future generations of UoRM graduates."
UoRM is the University of Reading's first multidisciplinary overseas campus and its fifth campus overall, alongside the Whiteknights and London Road campuses in Reading, and the Henley Business School sites at Greenlands and Johannesburg, South Africa. In addition, the University recently launched a partnership with the Nanjing University of Information Science and Technology, China.
UoRM, together with Henley Business School, offers courses at foundation, undergraduate and postgraduate level in subjects including business, finance, accounting, psychology, law, real estate, quantity surveying and pharmacy.
Students from both Reading and Iskandar campuses have the option to study from a term up to one year of their degree in the UK and Malaysia - or transfer permanently.
For more information, visit the University of Reading Malaysia website: www.reading.edu.my or Facebook page: www.facebook.com/universityofreadingmalaysia.