Biggest fight of my life – Frank Bruno talks to staff and students about Mental Health

02 March 2017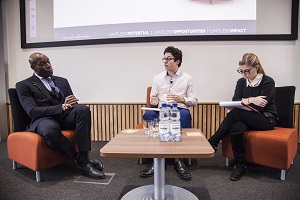 #UniMentalHealthDay
Frank Bruno MBE has opened up to University of Reading students about his fight against mental health, and the power of activity and discipline, in an event to mark University Mental Health Day.
The former boxer visited the University to talk about his personal experiences of having bipolar disorder, fighting Lennox Lewis and Mike Tyson, and his current campaign for more sporting facilities to help battle mental health.
Bruno also visited the University of Reading sports park to launch Reading's #UniMentalHealthDay activities, which include a mass participation circuit training event, a talk by leading a nutritionist therapist, exercise classes and mindfulness exercises – all to raise awareness about Reading's student wellbeing services.
During a Q&A session with staff and students, Frank Bruno MBE said:
"Having been diagnosed with bipolar is the biggest fight of my life.
"After I came back, I didn't have the confidence to go out …. going down the supermarket or to a restaurant when everyone is talking about you. You have to fight your way through and you've got to get on with what you've got to do."
Head of Student Wellbeing, Dr Alicia Penabizama at the University of Reading said:
"We were delighted to welcome sporting icon and mental health campaigner Frank Bruno MBE today to the Supercircuits session at the Sportspark and his talk with staff and students.
"Frank spoke candidly about his mental health problems in a way that was both accessible to the audience and showed how barriers to mental health stigma can be broken down. His ability to connect with an audience and to speak openly about the challenges he has faced it made an extremely interesting session. He showed that it is possible to make progress and maintain your health by keeping active, connecting with others, persevering and maintaining the focus on getting better.
"On Thursday 2nd March, Student Wellbeing has organised a wide range of informative and interesting events to reinforce this year's mental health message: Active mental health. These activities will include a range of walks, talks, charity events and competitions. We hope that as many students as possible can take part and that the events will help to raise awareness of the support that is available to them."
Further details about Frank Bruno can be found at www.frankbruno.co.uk
Follow Frank on Facebook (https://www.facebook.com/frankbrunoboxer/) and Twitter (http://www.twitter.com/frankbrunoboxer)
A video of Frank Bruno MBE's visit the University of Reading is available at:
https://youtu.be/7Cr5U55hllQ
Full details about the University of Reading's events to mark #UniMentalHealthDay can be found at:
http://student.reading.ac.uk/essentials/_support-and-wellbeing/worldmentalhealthday.aspx