Bruno on bouncing back, and bees in Brazil - Reading in the news Fri 3 Mar
03 March 2017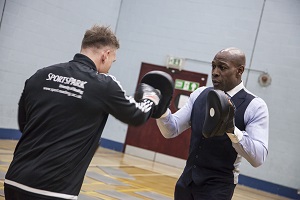 Here is today's round-up of media coverage featuring University of Reading research.
Archaeology dig: A new dig in ancient woodland within the Englefield Estate by the University of Reading team (Archaeology) behind the Silchester project is reported by Basingstoke Observer.
Frank Bruno visit: BBC Online featured the visit of Frank Bruno MBE to the university to speak to students about mental health in its Berkshire Live blog on Thursday. BBC Radio Berkshire also featured the story, interviewing the university's mental health advisor Dr Claire Gregor (Counselling). Read about Frank's visit in our news story. Watch our video of Frank talking about his own experiences, plus a video of his whole Q&A session here.
Maths storytelling: The use of storytelling to help children learn maths was discussed on BBC Radio Berkshire by Dr Vincent Trakulphadetkrai (Institute of Education), who led the research and founded MathsThroughStories.org initiative. Phys.org also reports the story. Read our news story.
Bee research reaches Brazil: Plantao News reports that Brazilian researchers are to use data on biodiversity and ecosystems, including pollination studies by Professor Simon Potts (Agri-Environment), to assist conservation and development decision-making in the country. Read our news story the pollinators report co-authored by Professor Potts for the UN last year.
Sharia law: A Radio Times feature on Channel 4's upcoming show Extremely British Muslims, cites Reading research (School of Law) on the number of Sharia courts in the UK. Read the School of Law study on Sharia councils here.
Other coverage:
Reducing climate impact of airlines: Coverage continues of research involving Professor Keith Shine and Dr Emma Irvine (Meteorology), which states airlines could reduce their climate change impact by 10% by making minor alterations to flight paths, at relatively low cost. New Atlas and My Informs report the research. Read our news story.
Chewing gum and memory: Daily Tech Whip reports research by the University of Reading (Psychology) that suggests chewing gum could help remove catchy songs stuck in your head by disrupting the key parts of the brain. Read our news story.
Northern Lights: Mashable ran pictures of the Northern Lights, which appeared in the skies over Scotland and northern England on Wednesday evening. It quotes Mathew Owens from Reading (Meteorology), who co-led research warning the Northern Lights may not be visible from the UK for several decades thanks to a predicted shift in the sun's solar energy. Read our news story.
Photo credit: Owen Williams, University of Reading (2017)