A universal world language, and opposition to the Stonehenge tunnel - Reading in the news Mon 6 Mar
06 March 2017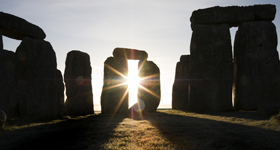 Here is today's round-up of media coverage featuring the University of Reading.
Language evolution: Professor Mark Pagel (Evolutionary Biology) explained to NPR radio stations across the USA how language evolved and continues to change, plus how we may one day have a universal language across the world.
Defending 'arrogant' universities: A letter to the Guardian by academics from universities, including Professor Rosa Freedman (Politics and International relations) and Professor James Green (School of Law) from the University of Reading, answered criticisms made in a previous letter, which argued universities are not embracing change and are making poor use of public money.
Cold weather research: Professor Dominik Fleitmann (Archaeology) was a guest on the Paul Hudson Weather Show on BBC Radio Humberside (44 mins 52 secs) to discuss the abnormally cold decade that occurred in the 15th century, and research that allows us to understand climate of the past.
Stonehenge tunnel: Dr Nicholas Branch (Archaeology) explained to BBC Radio Berkshire (48 mins 18 secs) his opposition, and that of other archaeologists, to the new road plans for Stonehenge, including a tunnel, as it could ruin winter solstice at the historic attraction.
Maths storytelling: Phys.org reports the work of Dr Natthapoj Vincent Trakulphadetkrai (Institute of Education) in highlighting the benefits of using storytelling to help children learn maths skills. Read our story.
Money motivation: An article in New York magazine highlights a study by Dr Kou Murayama (Psychology) showing how being paid can actually lower your longer-term motivation to succeed. Read our news story.
Agriculture students apologise: Stories appeared on Get Reading and the Reading Chronicle after members of the Reading Agricultural Society wrote a letter of apology to the Reading community following poor behaviour during a night out last October.
Frank Bruno interview: Frank Bruno MBE gave an interview to BBC Radio Berkshire (29 mins 19 secs) during his visit to the University of Reading on what his experiences of mental illness and what he told students. Read our story on Frank's visit.
Economic forum: Dr Daphne Halikiopoulou (Politics and International Relations) spoke at the Delphi Economic Forum about populism and the rise of far-right political parties. A report is featured on the Delphi Economic Forum website (article in Greek).
Other coverage:
A study involving Professor Keith shine and Dr Emma Irvine suggesting re-routing flight paths to reduce the climate change impact of contrails was discussed by Professor Shine on BBC Radio Berkshire (1 hr 1 min 39 secs). Manila Bulletin in the Philippines and Live Mint in India also report the story. Read our news story.
Research by Reading and partners on the role a child's genes play in their development continues to get worldwide coverage. Standard Digital in Kenya reports the story.
Philippines news site Daily Balita reports that universities and colleges in the country have teamed up with counterparts in the UK, including Reading, to offer courses in subjects such as Meteorology, Architecture and Agriculture.