Rising sea levels in Europe and take a walk through ancient Rome with our new online course – Reading in the news Wednesday 8 March
08 March 2017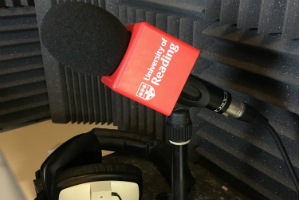 Take a tour through Ancient Rome: A new MOOC created by Dr Matthew Nicholls (Classics) allows people to take a virtual tour of ancient Rome. The new online course is featured in The Guardian and on BBC South and BBC Oxford. A more detailed report will feature on tonight's evening news. BBC Radio Berkshire also covered the story.
Women in Business Competition: The FT today launches its fifth annual Women in Business competition in partnership with the 30% Club, which campaigns to improve women's representation in boardrooms and at senior management level, and Henley Business School.
China expansion into Europe: According to China Daily, Chinese companies are filing a record number of patents in Europe in preparation for their international expansion. Zeng Yeqin (Henley Business School) says more and more Chinese companies are protecting themselves as they prepare to enter the European market.
Guardian University Awards: Henley Business School is shortlisted in the 'Employability initiative' category of the Guardian University Awards.
Rising sea levels in Europe: This article in The Conversation on how Europe's coastal cities will be able to cope with rising sea levels references research from scientists from the University of Reading and the Meteorological Office, which found an increase in the number of storms since 1910, in part due to climate change. The article is syndicated on Yahoo News UK.
Wolfendon report documentary: A Reading LGBT+ group is making a documentary about the ground-breaking Wolfendon report which paved the way for gay rights. As part of the project, members of Support U's youth group will work with academics from the University of Reading to examine archives and interview relatives of the those who were involved. GetReading and Daily Echo cover the news.
Brexit impact on food nutrition research: Brexit could severely hinder the ability of UK firms and research bodies to participate in big EU-funded food science projects, Prof Christine Williams (Food) has warned. Food Manufacture reports.
Agriculture students apologise: BBC Berkshire Online features a story after members of the Reading Agricultural Society wrote a letter of apology to the Reading and traveller community following poor behaviour during a night out last October. BBC Radio Berkshire also mentions the letter in its news bulletin.
Health and Life Sciences Building: The planning proposals for the new building are due to go before Reading Borough Council today; BBC Radio Berkshire features in its news bulletin.
British Science Week: Various events are taking place at the University for British Science Week which runs from Saturday 11th - Sunday 19th March. GetReading reports.
Other coverage:
As part of her association with the British Society of Animal Science, postgraduate researcher, Anna Thomson (Centre For Dairy Research), nominated her most inspirational women working within the sector.
Tori.ng covers a story on the house where it is thought Jesus was brought up. The story refers to the discovery by Dr Ken Dark (Economics). Read our story here.
Professor Marc Day (Henley Business School) is referenced as participating in an upcoming webinar on category management. Spend Matters reports.