Reading celebrates gender equality achievements on International Women's Day
08 March 2017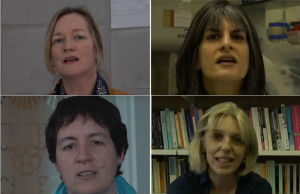 Today is International Women's Day – a chance to examine what we are doing to promote equality and identify steps that can still be taken to be more inclusive and supportive.
The University of Reading appointed England's first ever female professor in Edith Morley in 1908 and provides the current President of the Royal Meteorological Society in Professor Ellie Highwood.
Reading hosts an annual Edith Morley Lecture, this year to be presented by Penny Mordaunt MP, to allow students to hear from women who have had successful careers. This year, the lecture will follow a ceremony to officially rename the Humanities and Social Sciences (HumSS) building after Professor Morley, who was Professor of English Language.
In 2016, the University of Reading received external recognition for work on gender equality in the sciences when we successfully renewed our Athena SWAN Bronze award. We were commended in particular on institutional commitment to equality and diversity and higher-than-sector-average representation of women professors.
To continue this progress, Reading has set an ambitious target of achieving 40% female professors by 2020, as well as tackling the attainment gap that often sees female students outperform their male counterparts yet struggle to enter quality jobs after graduating.
We spoke to female academics at the university about tackling the pay gap that still exists in the higher education sector and challenging stereotypes.
They also gave their advice to other women looking to progress their careers and called for universities and society in general to #BeBoldForChange.
Professor Ellie Highwood recalled the support she received that allowed her to take up a leadership position as Head of Department for Meteorology in 2012 and later as Dean for Diversity and Inclusion. She also outlined the gender equality targets set by the university. Watch her video here.
Professor Parveen Yaqoob, Head of School of Chemistry Food and Pharmacy, spoke about how she has successfully balanced her challenging career in research with participating in the school life of her young son. Watch her video here.
Professor Lorraine Farrelly, Head of the new School of Architecture at the University of Reading, said budding female architects should not be put off visiting places of work that have traditionally been dominated by men. She urged anyone who wants to pursue a career in architecture to set up work experience on building sites and other places where they can witness construction first hand. Watch her video here.
Dr Madeleine Davies, an English Literature lecturer who specialises in women's writing and feminist theory, spoke about the positive changes made at Reading in recent years to make it an 'enviable' place for women to work. However, she added there was work still to be done to tackle stereotypes in higher education. Watch her video here.