Food bug research keeps you safe from the killer in your carrots
13 March 2017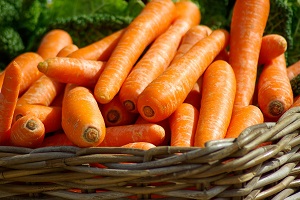 Food safety researchers are fighting deadly food-borne bugs by unlocking their defences from the inside, scientists will reveal this week.

The innovative technique, which is still in development, will be revealed to the public at the Fairbrother Lecture at the University of Reading this Tuesday (March 14) – along with some top tips on how to your family safe from food poisoning.

In the lecture, starting at 7pm at Reading's Whiteknights campus, food microbiology graduate researcher Ruth Barnes will explain how almost half of all food poisoning occurs not from eating out, but in the home, and how the culprit is often food that we would usually consider 'healthy'.

She said: "We tend to think about shellfish or dodgy takeaways as the most likely source of food poisoning. However, fresh produce, such as fruits, salads and vegetables, are actually among the main sources of foodborne illness."

Ruth will show the simple food hygiene techniques that can significantly reduce the risks to families, and how her cutting-edge research into microbiology could save lives in the future.

Her research, undertaken as part of a doctoral research project at the University of Reading, looks to unlock the secrets of the bugs E.coli and Campylobacter which can sometimes be passed to humans on fruit and vegetables and which cause some of the most serious cases of food poisoning.

Ruth is using a novel technique to understand the biological systems protecting bacteria from disinfectant materials and processes used by the food industry. She hopes that by unlocking the systems, food processing companies will be able to kill more bacteria while using fewer chemical disinfectants, while still keeping customers safe.

"In my research, I'm looking for new and more efficient ways to kill the bacteria that can live on fresh fruit and vegetables making it safe and wholesome," she said.

"When bacteria unintentionally enter the food chain they can be extremely dangerous, causing illness and death. The type of commonly used disinfectants I work with can be used to wash foods killing bacteria and making them safer to eat.

"The problem is that some bacteria are capable of surviving extreme conditions. What I am attempting to do is to try to unlock the biological systems protecting the bacteria from these washes, rather than simply using more or harsher chemicals to kill the bacteria.

"Targeting such systems can make treatments more effective reducing foodborne illness and reducing the amount of other chemicals that we have to use to make your food safe. Through understanding something small like bacteria and their mechanisms, we might be able to make a big difference in the occurrence of disease."

Food poisoning cases caused by poorly treated fruit and vegetables are thought to lead to hundreds of thousands of illnesses each year, and can be deadly. High profile and tragic cases include the 2011 E.coli outbreak in Europe, caused by bean sprouts, which affected nearly 4,000 people and killed 53, and case of salmonella found in peanut butter in 2007, which affected 425 people.

Further information about food poisoning caused by fruit and vegetables is available at:
http://www.ifst.org/news/updated-ifst-information-statement-fresh-produce-safety

The Fairbrother Lecture, 'When healthy foods go wrong: food poisoning and fresh produce' given by PhD researcher Ruth Barnes, starts at 7pm on Tuesday 14 March, at Henley Business School, Whiteknights campus, University of Reading. Admission is free, but booking is advised – visit www.reading.ac.uk/events or call 0118 378 6718 for more information.

The Fairbrother Lecture is given annually by a leading PhD researcher from the University of Reading's Graduate School, and highlights some of the ground-breaking research carried out by the more than 1,400 graduate researchers at the University.