Monuments of the past, and Arctic sea ice of the future - Reading in the news Tue 14 Mar
14 March 2017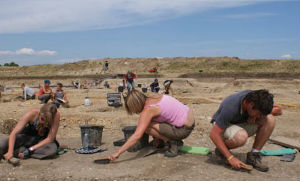 Here is a round-up of the latest news coverage featuring the University of Reading.
Arctic Sea Ice: Dr Ed Hawkins (Met) provided expert commentary on a study of sea ice decline in the Arctic, in the Mail Online, the Weather Network, and Asia News.
Dr Danny Feltham (Met) has also published research on improved forecasting about arctic sea ice melt. Read our news story here.
Prehistoric monuments found: Archaeologists from the University of Reading have discovered six prehistoric monuments near Silchester, reports Newbury Today. The sites have been found using aerial surveying, and Dr Catherine Barnett, research manager, is quoted.
Food safety lecture: Ruth Barnes, a Food Science PhD student, spoke to BBC Berkshire (40 mins 20 secs) about food safety and her research into making fresh produce safer for consumers. Ruth's interview was the first in a series during British Science Week, and she spoke ahead of the Fairbrother Lecture this evening. Read our news story here.
Agriculture top 10 in world: AgriMarketing report on news that the University of Reading's School of Agriculture has been ranked 10th in the world for the subject, and top in the UK, according to latest QS World Rankings. Read our news story here.
Other coverage: