The truth about the 'five-second rule' - Reading in the news Wed 15 Mar
15 March 2017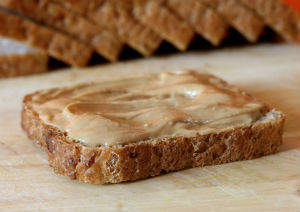 Here is today's round-up of media coverage featuring the University of Reading.
Improved global flood forecasts: Research on flooding following changes in weather caused by El Niño and La Niña, by Rebecca Emerton and Professor Hannah Cloke (Meteorology), is covered by ITV online. The research paper was published today. Read our story about it here.
Five second rule: PhD student Dr Ruth Barnes (Food and Nutritional Science) explained the truth behind the so called 'five-second rule' to BBC Radio Berkshire (2 hrs 23 mins 30 secs) – revealing if it is safe to eat food that has fallen on the floor.
Benefits of bees: Professor Simon Potts (Agri-Environment) was quoted in a Yahoo News article on Swiss research on how bees can help flowers grow bigger and smell sweeter.
Ghana alumni: Henley Business School and the University of Ghana Business School formerly inaugurated the Henley Alumni Group of Ghana at a ceremony, reported by ModernGhana.com
British Science Week: Dr Patrick Lewis (Neuroscience) explained his research on Parkinson's disease on BBC Radio Berkshire (42 mins 29 secs) as part of our daily series of interviews arranged for British Science Week.
Cereal disease: A national research project called UK Cereal Pathogen Virulence Survey involving the University of Reading, which advises on changes in cereal disease in the UK, is featured by SeedQuest on its 50th anniversary.
Arctic ice decline: Dr Ed Hawkins' (Meteorology) comments on the decline in Arctic sea ice continue to be used in coverage. AudioBoom and MyInforms report.
Probiotic research: Trials carried out by Professor Glen Gibson and Professor Bob Rastall (Food and Nutritional Science) to show how a probiotic strain can reduce cholesterol was referenced in a report by PharmiWeb on a manufacturing and supply agreement being signed.
More coverage
Changes to flight paths could reduce climate change impact by airlines by 10%, a study by Reading's Meteorology department shows. This is reported worldwide, including by Hindustan Times and ReadHouse today.
Statements by Professor Richard Allan and Professor Keith Shine (Meteorology) in response to US EPA boss Scott Pruitt's claim that carbon dioxide was not the driving force behind climate change are reported by the Reading Chronicle.
Claims that a female professor in Glasgow was in fact the first ever appointed, 16 years before Edith Morley at Reading, are reported by Planet Genius Magazine.