Healthy hearts, and business heads: Reading in the news - 17 Mar 17
17 March 2017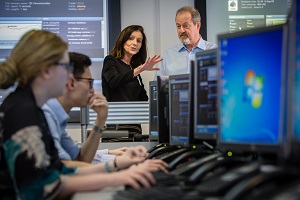 CBI head visits Reading: Director General of the CBI, Carolyn Fairbain was interviewed for BBC South during her visit to UoR as part of a CBI Thames Valley event. Also covered by BBC Berkshire, and you can read our story here.
Cultural festival to come to Reading: Reading Chronicle report on the awarding of Arts Council funding to the town to launch a cultural festival. The University of Reading is mentioned in the article, noting that [we] "will help support the development of locally commissioned art and culture, contributing to the festival."
British Science Week: Dr Amanda Unsworth (ICMR) spoke to BBC Radio Berkshire about the latest study of platelets, and how the public can get involved, as part of our daily series of interviews arranged for British Science Week.
New probiotic to fight heart disease: Pharmiweb report on two new probiotic formulations that will reduce cardiovascular risk and manage heart disease. Research to investigate the formulations was conducted by Prof Glenn Gibson and Prof Bob Rastall (Food).