Food, weather and mental health: Reading in the news – Weds 22 Mar
22 March 2017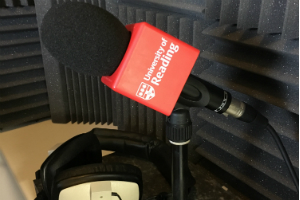 Why can't we taste our own food as well: Dr Orla Kennedy (Food) explains to The Daily Mail why we often can't taste food as well when we have prepared it themselves. (print only)
Children's mental health: Reading research (Psychology) that suggests many children with mental health problems aren't getting the support they need because their parents are reluctant to access services was featured on BBC South (lunchtime, early evening and late evening news) and was on BBC Radio Berkshire news bulletins throughout the day. The Reading Chronicle and Medical Xpress also covered the story.
Countdown: Psychology student Penny Williams competed in Channel 4's famous Countdown programme.
New Chancellor: New University Chancellor Lord William Waldegrave spoke to BBC Radio Berkshire about his new role, as well as the challenges Brexit means for the University.
Saving Syria's heritage: Scientists from Reading have been involved in developing an invisible, traceable paint which Syrian archaeologists have been using to protect some of the country's most valuable artefacts from criminal and terrorist gangs. The story is featured in BBC Ukraine, Newsweek, Zaman Al Wasl, RecentNewz, EZSPK, Ghana Web and The New Arab.
New CFO: Times Higher Education reports that Samantha Foley has joined the University of Reading as its new Chief Financial Officer.
Extreme climate trends: Prof Richard Allan (Met) talks to BBC Radio Berkshire about the latest report from the World Meteorological Organization, which shows that the extreme weather patterns of 2016 are continuing into 2017.
Employee data: HR Magazine explores the ethics of gathering employee data - Ardi Kolah (Henley Business School) is quoted saying that HR is critical to the changing ways that companies process personal data.
Hot drinks and vitamins: Professor Glenn Gibson (Food and Nutritional Science) offered advice on the best drinks to wash down vitamin supplements with, after a study showed tea and coffee destroyed much of the good bacteria. IOL covers the study.
Earworms: This article in The Marion Star (part of the USA Today network) features research by Philip Beaman (Psychology), which found that chewing gum can help get rid of songs that are stuck in your head, otherwise known as earworms.
Built environment data: At the Big Data World event in London last week, Prof Tim Dixon (SBE) warned that the "built environment sector is failing to connect with the smart cities agenda." UK Authority reports.
Business event: The Confederation of British Industry (CBI) event hosted by the University last Thursday, where CBI director general addressed Thames Valley Business leaders, was reported by The Business Magazine.
Reading Year of Culture: Reading's Year of Culture has been shortlisted by the Planning and Placemaking Awards - UoR was one of the partners involved in the project, which was led by Reading UK CIC, writes The Reading Chronicle.
Sea ice loss: An article on Eco-Business claims that humans are responsible for up to 70% of sea ice loss in the Arctic - Dr Ed Hawkins (Met) says it is a case of when the Arctic will be completely ice-free in the summer, not if.
Other coverage: