Reading number one for campus environment and
top 20 for overall student experience
24 March 2017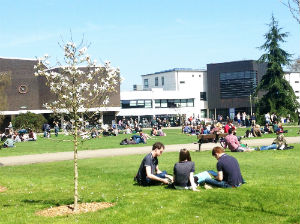 The University of Reading campus has been rated number one in the country for having a 'good environment', according to a survey of undergraduates.
The results of the Times Higher Education Student Experience Survey 2017 placed Reading as joint 18th overall – up from 20th last year and its highest ever position in the survey – and third highest in the South East region.
Reading's students' union, RUSU, was also rated fifth best in the country, an improvement on joint eighth position in 2016.
The results reflect the University's continuing commitment to invest in its award-winning green spaces and welcoming campus atmosphere. The top rating for good campus environment follows a third-place ranking last year.
Top 10 for accommodation
Reading has seen a steady rise in satisfaction ratings for accommodation over the last six years, rising from 22nd highest in 2011 to sixth highest in 2017. The top rating for good campus environment follows a third-place ranking last year.
Read a student's first-hand account of living in Reading accommodation
Vice-Chancellor of the University of Reading, Sir David Bell, said: "I am delighted that our students have rated Reading as best in the country for campus environment. Whiteknights, London Road and Greenlands are all beautiful campuses and they certainly set Reading apart from other universities around the UK.
"It is also very pleasing to see the sharp rise in accommodation ratings. We have invested more than £100 million into building new halls of residence over the last five years, totally replacing three halls and significantly updating others. We now provide a range of modern accommodation types to suit all budgets – including townhouses, en-suite rooms and shared flats – so that everyone's needs are catered for.
"League tables are only one measure of satisfaction and, of course, positions fluctuate year-to-year. However, it is always good to see students being so positive about their University."
In December 2011, Reading signed a £200m deal with University Partnerships Programme (UPP), the UK's leading provider of campus infrastructure and residential management services, to take over and manage its accommodation services.
The University has set up a dedicated team who work with UPP to ensure that student feedback is acted upon and last year also saw the launch of 'Your Halls Life', a joint UPP and University programme designed to help residents get more out of their time in halls. The programme offers monthly opportunities for student residents to get involved with the halls community and so far there has been a student bake off, trips to Oxford and Windsor and a tutorial on how to cook on a budget.
The Times Higher Education Student Experience Survey, now in its 10th year, measures a broad definition of student experience as expressed by students themselves. This includes the aspects of university life that matter most to them, such as academic experience, social life, university facilities, student welfare, accommodation, industry connections and the students' union.
Watch Reading student give a tour of her room in university accommodation