Student experience, climate impact, and flog it at the University: Reading in the news - 24 March
24 March 2017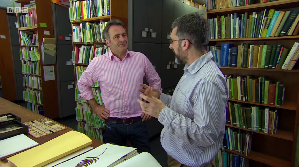 THE Student Experience Survey: Reading is number one in the UK for having a 'good environment' on campus, and joint 18th in overall student experience, reports Times Higher Education. The Students' Union is fifth best in the country and Reading has risen to sixth for student accommodation, up from 22nd in 2011. Read our story here. Second-year English literature student Vienna Michaels was featured in a piece on student comments and Julia Munro, Head of the University Library and Collections Services, was quoted in a feature about the university libraries of the future. Also in Study International.
Read our news story here.
Sea ice record decline in both poles: Arctic and Antarctic ice levels have seen record lows in 2017, as reported in Carbon Brief and reproduced in RE New Economy. Articles include comment from Dr Jonny Day (Met).
Airline climate impact: Research involving Professor Keith Shine and Dr Emma Irvine (Meteorology) on how minor redirections of airline flights could help reduce climate change was reported by the Guardian. Read our news story here.
A new cloud: Dr Graeme Marlton spoke to BBC Berkshire about the naming of a cloud formation 'Asperitas' which was published on World Meteorological Day on Thursday 23rd March. Read our news story, featuring research into how such cloud formations are formed, here.
Women in Law: BBC Woman's Hour discusses Gwyneth Bebb and the that led to women being called to the bar in 1922. In an interview about a play based on Bebb's life, the contributor mentions a UoR Law Lecturer who spoke about women in political biographies.
How to set up a Herbarium: BBC Flog it spoke to Dr Alastair Culham (Bio Sciences) about how to set up a herbarium as part of a visit to Reading.
Invisible solution fighting smuggling of ancient artefacts: UoR Archaeology teams have worked on a clear watermarking solution to protect against the smuggling of ancient artefacts from the Middle East, as reported in Yahoo News and Alarby.
Dairy health benefits: Prof Julie Lovegrove spoke at a Dairy Council event on how dairy products should be protected by public health guidelines, reports New Food Magazine.
Other coverage: