Is this the airport security of the future? Reading in the news - Mon 27 Mar
27 March 2017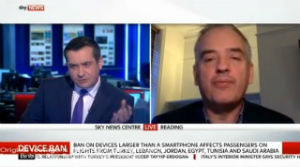 Please find below the latest media coverage featuring the University of Reading.
Airport security: Dr James Ferryman (Computer Science) was interviewed on Sky News about the laptop ban on aeroplanes and how technology could allow passengers to be scanned more efficiently in future.
Chancellor comments: Reading Chronicle reports on comments about international students, Brexit and the Higher Education Bill made by the University of Reading's new Chancellor Lord Waldegrave. Read our news story.
Student satisfaction: Reading's strong performance in the latest Times Higher Education Student Satisfaction Survey is covered by the Reading Chronicle. Read our news story on the rankings.
New type of cloud: Reading Chronicle and Smithsonian Magazine both report the announcement a new cloud has been added to the International Cloud Atlas, thanks to research by Reading scientists (Meteorology). Read our news story.
Blame culture: Care Appointments reports research carried out at Reading (Psychology and Clinical Language Studies) that shows parents often don't access mental health support for their parents because they fear being blamed for them. Read our news story.
Female legal pioneer: The story of a woman who took the Law Society to court for the right to become a lawyer in 1913 being told by Professor Rosemary Auchmuty (Law) has led to a play being penned about her battle, reports We are the City.
Other coverage
Professor Mark Pagel's (Ecology and Evolutionary Biology) 2011 Ted talk on the evolution of language and how the world may speak one universal language in the future is featured by True Viral News.
A mum told Devon Life how her daughters (one of whom is studying at UoR) kept her going after she lost her husband, in a Mother's Day article.