Was fruit the key to evolution? - Reading in the news Tue 28 Mar
28 March 2017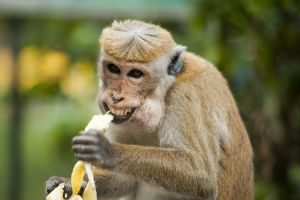 Here is today's round-up of medai coverage featuring the University of Reading.
Brain evolution down to fruit?: A study suggesting eating fruit, rather than social behaviour, helped primates evolve to have bigger brains was commented upon by Dr Chris Venditti (Ecology and Evolutionary Biology). His comments appear in articles by global media, including the Guardian, Telegraph, MSN Singapore, Hindustan Times,
Easter at MERL: Isabel Hughes told BBC Radio Berkshire about the new displays at the Museum of English Rural Life (MERL), its history and the events going on over Easter. Visit www.reading.ac.uk/themerl for more information on event.
Cloud research: A story on True Viral News and KIJK on one of the latest cloud types to be officially classified (asperitas), references the University of Reading (Meteorology) and visiting fellow Gavin Pretor-Pinney. Read our story about Reading's role in getting the cloud recognised.
Post-IS Iraq: Work by Professor Roger Matthews (Archaeology) to assess the damage caused by IS to non-Islamic historical sites is featured in an article by AINA.
Other coverage:
Professor Kevin Warwick's research on human cybernetics features in an article on IDGConnect on the potential growth in such technology.
Dr Kou Murayama's research (Psychology) on the performance of children at school, which suggests parenthood is more important than the level of school, is featured in The Marker.
Cosmopolitan in Germany reports research done at Reading that shows Champagne could be good for your health (Food and Nutritional Sciences).