The man who pioneered electronic implants to treat paralysis - Reading in the news Wed 29 Mar
29 March 2017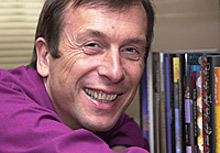 Treating paralysis: Professor Kevin Warwick (Cybernetics) spoke on the Victoria Derbyshire show on BBC News Channel (1 hr 51 mins 30 secs) about his pioneering work using chip implants that allow robots to be moved using the power of thought. Read more about his research here.
Playwright inspiration: Writer Alex Giles, who is about to see his play The Disappearance of Miss Bebb – about a woman who took on the Law Society in court after it refused to let her become a solicitor - performed on stage for the first time, told Woman's Hour on BBC Radio 4 (9 mins 25 secs) he was inspired by a talk by Professor Rosemary Auchmuty (School of Law). Read more about how the play was created on the City Library blog.
Triggering Brexit: Dr Mark Shanahan (Politics and International Relations) explained the significance of the government's triggering of Article 50 today on BBC Radio Berkshire (15 mins 30 secs). A clip was also used on the station's hourly news bulletins.
Estate development: An article in Inside Housing on the rebuilding of the South Acton Estate in west London focuses on a report written jointly by Professor Tim Dixon (TSBE) from the University of Reading and Social Life.
Fruit and evolution: Dr Chris Venditti (Ecology and Evolutionary Biology) commented on research suggesting fruit played an important role in the evolution of the brain in primates. This is picked up by News Dog and Welt in Germany.