Money pledged to celebrate anniversary of landmark gay rights report on eve of inaugural lecture
03 May 2017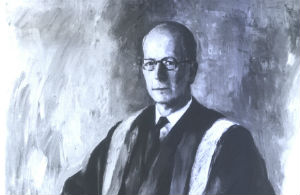 Funding has been secured to tell the story of how a milestone report published 60 years ago led to the decriminalisation of homosexuality.
A total of £77,200 has been awarded to mark the anniversary of the 1957 Wolfenden Report, named after former University of Reading Vice-Chancellor Lord John Wolfenden. The bid to the Heritage Lottery Fund was led by LGBT+ charity Support U, and supported by the University of Reading and Reading Museum.
To mark the anniversary, the University is holding a seminar and the first ever Wolfenden Lecture on Thursday 4 May, looking at LGBT+ themes throughout history.
Ruth Hunt, chief executive of LGBT+ charity Stonewall, will be giving a talk entitled 'LGBT equality: past present and future' in the Van Emden Theatre on the University's Whiteknights Campus.
Lord Wolfenden – then Sir John – was Vice-Chancellor at Reading from 1950-1964. He was chosen to chair a Home Office committee looking at homosexuality and prostitution in 1954. They produced in 1957 what became known as the Wolfenden Report, which led – after some delay - to homosexuality being decriminalised with the passing of the Sexual Offences Act 1967.
Professor Simon Chandler-Wilde, Dean for Diversity and Inclusion at the University of Reading, said: "By holding the first ever Wolfenden Lecture, we at the University of Reading want to be loud and clear that LGBT+ identity is to be celebrated.
"We are proud of the place in LGBT+ history of our former Vice-Chancellor, Lord Wolfenden, whose Wolfenden Report led to the end of the criminalisation of homosexuality. Through this lecture and seminar, and the series of events we have lined up to support our staff and students and make an inclusive university environment part of our values, we hope to continue the work he started."
Seminar to explore history of LGBT+ identity
The first ever Wolfenden Lecture held by the University of Reading will become a regular annual event featuring leading national figures in the LGBT+ community, and promoting gay pride in Reading and beyond. It will be preceded this year by a seminar, called 'Before and After Wolfenden: LGBTQ+ History and Reading'.
The seminar, itself intended to be the start of a series of such events, will be an exploration of the liberating work of 18th century Classical writer Johann Winckelmann, who was an inspiration to renowned Irish playwright Oscar Wilde.
Wilde was twice tried for gross indecency with men, eventually being sent to Reading Prison for two years in 1895. Professor Peter Stoneley, Head of Department for English Literature, will speak about Wilde's conviction and time in Reading Prison, and his relationship with some of the fellow inmates he met there.
Winckelmann's writing about Ancient Greek statues celebrated the naked male body, making him one of the first figures in history to openly express such feelings for nearly 2,000 years, in a time when homosexuality was outlawed. Dr Katherine Harloe, Associate Professor of Classics, will explain her research on Winckelmann and how he laid the foundations for homosexuality to be celebrated rather than punished.
The seminar audience will also see a presentation on the timeline of LGBT+ rights by Lorna McArdle, co-founder and COO of Support U.
The Heritage Lottery Fund grant will be used to record and celebrate previously unexplored stories of LGBT+ heritage in Reading, including the Wolfenden Report on the 60th anniversary of its publication.
Lord Wolfenden's archives are held at the University and will be used to create an exhibition and events programme this autumn.
Further events planned
Other schemes at the University to provide support for staff and students include funding up to eight places on the Stonewall LGBT Role Models Programme over the next 12 months. This programme gives individuals the opportunity to explore the skills needed to be a role model and create an inclusive environment for others.
The International Day Against Homophobia, Biphobia and Transphobia (IDAHOBiT) 2017 will be marked with three events: an information session for staff on becoming an LGBT+ Ally on 9 May at Henley Business School; Trans Awareness Training for staff and students on 12 May; the annual flag-raising and speeches on IDAHOBiT day (17 May).
Deb Heighes, Co-Chair of the University of Reading's LGBT Plus support network for staff, said: "These activities contribute to building a safe and inclusive learning environment for students and staff, to allow people to be themselves at the University and promote a culture of 'acceptance without exception'."
For more details of all the above events see www.reading.ac.uk/diversity/diversity-events-news.aspx
The University of Reading is showing the Oscar-winning film Moonlight, which depicts a man coming to terms with his sexuality, on Tuesday 9 May as part of the Reading Film Theatre screenings.