How the melting of Arctic ice could open up new shipping routes – Reading in the news Weds 3 May
03 May 2017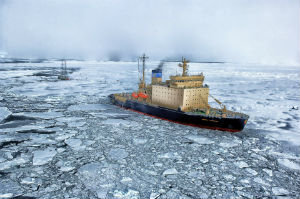 New shipping routes as a result of Arctic ice melting: The New York Times reports that as global warming melts sea ice across the Arctic, shipping routes once thought impossible - including directly over the North Pole - may open up by the mid-century. The story is based on research from Reading meteorologists Dr Nathanael Melia, Dr Ed Hawkins and Prof Keith Haines. The story currently appears on the front page of today's New York Times website.
Severe air turbulence: Following a flight from Moscow to Bangkok, where people suffered serious injuries as a result of severe air turbulence, Dr Paul Williams (Meteorology) was interviewed for CBS This Morning speaking about how climate change will cause more turbulence in the future. The story appears online at CBSNews.com and is also picked up eGlobalTravelMedia and other global publications.
Wolfendon report: The University was involved in a project to secure funding to tell the story of how a milestone report (written by former UoR Vice-Chancellor Lord Wolfendon) published 60 years ago led to the decriminalisation of homosexuality. The story is featured in gay lifestyle magazine Attitude. Read our story here.
Agricultural economics: Alan Swinbank, Emeritus Professor of Agricultural Economics at Reading, gave a presentation at last week's Agricultural Economics Society (AES) annual conference discussing the impact of Brexit on agriculture in the EU, as well as reforms to the Common Agricultural Policy. An article is featured on Agra Europe.
Rocket salad anti-cancer properties: Research from Dr Luke Bell (Food) found that anti-cancer nutrients in rocket leaves were found to increase threefold seven days after harvest. The Reading Chronicle reports. Read our news story here.
Health benefits of champagne: Buzz.ie features a story on the Reading research which found that drinking champagne could reduce improve your memory; Prof Jeremy Spencer is quoted. The story is also mentioned on regional radio shows Magic London and Academy FM.
Other coverage:
Prof Richard Hoyle (Centre for Economic History) is leading some research into the economic history of Chippenham. The Wiltshire Gazette & Herald covers a story of a large donation to the research project.
Civil Service World reports that Henley Business School, under the guidance of Prof Andrew Kakabadse, has been involved in conducting interviews with officials and ministers, commissioned by the Public Administration and Constitutional Affairs Committee, in order to help improve how government works.