The 'incredible find' that got Caxton trending on Twitter - Reading in the news Tue 9 May
09 May 2017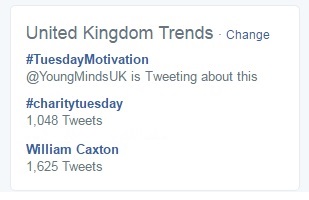 Here is today's round-up of media coverage.
Caxton leaf: News that a 15th Century printed text by William Caxton which has been found by UoR special collections has received widespread coverage including across the BBC (R4 Today, Breakfast News, World Service (16 mins 50 secs), News Online and local radio stations including BBC Radio Berks); Mail Online, Independent, ITV Meridian, Business Standard and AOL.co.uk; and 'William Caxton' trended on Twitter across the morning (see attached screenshot).
Dairy meta-analysis: The Guardian have covered a report by Jing Guo (IFNH) which found no association between high-fat dairy foods and heart disease. Prof Ian Givens (IFNH) is quoted extensively, and the study is also reported in the Mail Online, Independent, Yahoo.co.uk, The Sun, the South China Morning Post and the Hindustan Times.
Food innovation competition: Students from Food and Nutritional Sciences have been shortlisted for a national competition, Ecotrophelia, for two new product developments, as covered in Food Manufacture. Two entries from Reading made up the five team shortlist, which will be judged in June and the winners will be entered into a EU-wide competition.
Climate temp breach: Dr Ed Hawkins is quoted in an article in Eco-Business about the likelihood of a 1.5C breach due to Pacific Ocean shifts.
Other coverage:
HBS Africa have launched a podcast, #HenleyBusinessRadio, according to BizCommunity and Media Update.
An obituary in the Telegraph (£) and Think Spain for historian Lord Hugh Thomas mentions his former role as Professor of History at UoR.