Chomsky talks Trump, and Eggsy discusses Newport accent - Reading in the News Thu 11 May
11 May 2017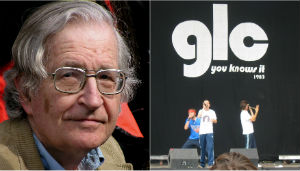 Here is a round-up of the latest media coverage featuring the University of Reading.
Noam Chomsky lecture: BBC Two (33 mins 20 secs) programme Newsnight ran an interview with Noam Chomsky on Wednesday night, recorded before the academic's high-profile lecture at the University of Reading. The lecture is the first of three events with Chomsky hosted by the University. Details of how to follow these live online can be found in our news story.
Accent characteristics: Professor of Linguistics Jane Setter (English) joined Eggsy from Newport rap group Goldie Lookin Chain on BBC Radio Wales (22mins 26 secs)to discuss why the town had been chosen as the location for a funeral business' call centre, apparently due to its accent sounding sympathetic and consoling.
University quads plans: Building.co.uk runs a story on the designs for the University's quads by Reading firm Barton Willmore. Read more about the plans in our news story.
Robotic advances: Independent.ie runs a feature on how advanced robots could become in the future, referencing Professor Kevin Warwick's pioneering work (Cybernetics) on human technology implants.
Other coverage:
BBC Radio Leeds asked listeners to let them know if they'd found any treasure at home, after the news that the University of Reading (Special Collections) had unearthed lost pages printed by William Caxton. Further coverage of the story on Information Today Europe, True Viral News and Free Republic, Christian Science Monitor in the US. Read our news story here.
Further international coverage of a Reading study (Food and Nutritional Sciences) showing dairy products do not increase the risk of heart disease on Chicago Sun Times, Health Newsline, Washington AG Network and Ledger Independent in the US, Daily Sun in Asia, and Irish radio station NewsTalk. Read our news story here.
A poetry competition run by Cookham Festival, in partnership with the University of Reading, the Stanley Spencer Gallery and Two Rivers Press, was described in an interview with festival chairman Malcolm Stork on BBC Radio Berkshire, ahead of a reading of the winning poems at Cookham Dean Village Hall on Friday 12 May and prize-giving on 19 May.
Analysis by Professor Will Hughes (TSBE) of bidding practices for construction contracts features in Construction Manager Magazine.
An interview with a University of Lagos botany professor in Guardian Nigeria mentions that samples taken from plants in arid zones of Nigeria are being analysed at the University of Reading.
Research by Dr Paul Williams on how climate change will make severe turbulence more common is covered by Caribbean360. Read our news story.
TV and radio interviews:
The press office has capabilities to support live television and radio interviews. To find our more, email pressoffice@reading.ac.uk.