Why Mexico isn't as dangerous as it looks, and Happy Birthday spiral graph - Reading in the news Fri 12 May
12 May 2017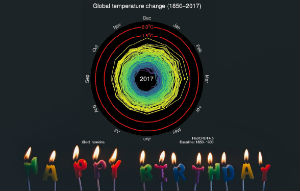 Here is today's round-up of media coverage featuring the University of Reading.
Mexico crime rates: Dr Tom Long (Politics and International Relations) spoke to the Guardian about a report by the International Institute for Strategic Studies (IISS) that stated Mexico was the second deadliest country after Syria, according to death toll in 2016. Dr Long's comments also appear in articles in Global Times, Business Insider and Times Union.
Chomsky visit: The Guardian has run its interview with Noam Chomsky, arranged during his visit to the University of Reading on Wednesday about the future of the Labour party. Find out how to follow Chomsky's final lecture at the University today in our news story.
Spiral graph birthday: Renew Economy and Climate Central run stories on the fact it is one year since Dr Ed Hawkins' (Meteorology) global temperature spiral graph hit the headlines as it was used in the opening ceremony of the Rio Olympic Games in 2016. Dr Hawkins has updated the graph to show data for 2017, which is getting attention on social media.
Mental health MOOC: University Business reports on a new online course on mental illness and wellbeing, being run by the University of Reading from 5 June. Read our news story.
Controversial drama: Comments by Professor Kate Williams (History) on how seriously we should take the themes explored in this week's BBC Two drama King Charles III are featured in a Long Room article.
Labour manifesto leak: Dr Mark Shanahan (Politics and International Relations) gave his thoughts to BBC Radio Berkshire (37 mins 18 secs) on the leak of the Labour party manifesto ahead of June's General Election.
Other coverage:
TV and radio interviews: The press office has capabilities to support live television and radio interviews. To find our more, email pressoffice@reading.ac.uk.