Chronic housing problems focus of new research programme
15 May 2017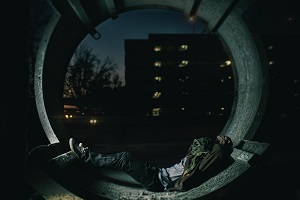 As levels of homelessness rise, and prospective homeowners face increasingly difficult conditions and little choice when trying to buy a house, a new research group including the University of Reading has been set up to address these issues in the UK's housing system.
The new UK Collaborative Centre for Housing Evidence (CaCHE) will bring together a consortium of nine universities and four non-academic professional bodies to influence future housing policy at national and local levels. Major issues in the housing sector include the rate of new homes being built which continues to hover around 50-60% of recommended levels, and quality of homes and neighbourhoods inadequately address issues of wellbeing and long term sustainability.
Architecture, Economics, and Real Estate and Planning academics at the University of Reading will join CaCHE, which will receive £6m funding and a further £1.5m institutional contribution from consortium partners. The funding will be used to look at all aspects of housing including real estate planning; housing and the economy; and poverty, health, education and employment.
Prof David Clapham, Professor of Planning at the Henley Business School, University of Reading said:
"The problems in the housing system have gone on for too long. The issue is not only affecting the availability and affordability of housing for generations of prospective homeowners but also profoundly affecting the life chances of vulnerable people.
"Homelessness is becoming more and more visible on the streets of towns and cities such as Reading and we need urgent research and action to deal with a problem that has profound impacts on the health and well-being of a large number of people and their families.

Prof David Clapham, Professor of Planning at the Henley Business School
"Almost 1 in 10 British jobs are in the housing sector, and more than a fifth of household spending goes on rent, mortgage payments, home repairs, maintenance and improvements.
"The University of Reading is pleased therefore to be part of such a significant project for the future of UK housing, encompassing an extraordinary range of collaborators including multiple leading UK Housing architecture practices.
"We will be bringing expertise in Architecture, Real Estate and Planning as well as in Economics and will be exploring the value of good design in social, wellbeing as well as monetary terms."
Themes
The work of the programme will focus on six overlapping themes:
Housing and the economy;
Understanding housing markets: demand and need, supply and delivery;
Housing aspirations, choices and outcomes;
Housing, poverty, health, education and employment;
Housing and neighbourhood design, sustainability and place-making;
Multi-level governance.
CaCHE will be led by the University of Glasgow's Professor Ken Gibb, Director of Policy Scotland and Professor of Housing Economics - who will be Principal Investigator and Director of CaCHE.
He said: "In the UK, housing is one of the main policy challenges facing national and devolved governments. This major new programme will allow policy makers and practitioners across the UK to benefit from the best possible evidence to help them take the robust action needed to tackle chronic housing problems.
"The aim is to use multi-disciplinary expertise to provide relevant and rigorous housing evidence and research to influence and ultimately alter housing policy for the benefit of all.
The bulk of the £7.5m funding will come from the UK Economic and Social Research Council (ESRC), with support from the Joseph Rowntree Foundation and AHRC (Arts and Humanities Research Council).