Conservative manifesto, ancient Rome and a raccoon break in: Reading in the News - 18 May
18 May 2017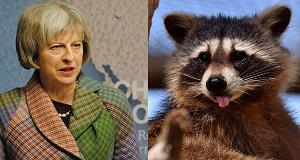 TVCTU: The Thames Valley Clinical Trials Unit is featured in a release by the National Institute of Health Research ahead of this Saturday's International Clinical Trials Day. The story notes that the TVCTU is being formally launched today (18th May), with a launch event taking place this evening.
Pesticide ruling: Research by Prof Simon Potts (Agriculture) about pollinators is quoted in a Consumer Affairs article about a judgement on the US Environmental Protection Agency's wrongful approval of neonics.
Manifestos: Dr Mark Shanahan (Politics and IR) spoke to BBC Berkshire (43 mins in) about the Conservative Manifesto being launched today.
The MERL: GetReading cover the MERL's digital takeover taking place tonight, highlighting the virtual reality opportunities including the virtual recreation of Ancient Rome.
Facilities Management: An archive of workplace architects DEGW held in special collections is referred to in a reflection on the facilities management profession in Workplace Insight.
Caxton: Further coverage of the discovery of a rare example of printing by William Caxton being found in the University's Special Collections archive, in Print Monthly.
In other news…
Raccoon break in: A story about a raccoon entering the family home of a UoR Politics student is reported in the Telegraph and other publications.
Image credit: (left) Chatham House, Countering Terrorism: A Global Perspective, 9 December 2015, available on Flickr. Copyright licence: cc-by-2.0. (right) Alexas_photos, Racoon. Copyright licence: CC0 Public Domain.