Raising the bar with new law courses at Reading
22 May 2017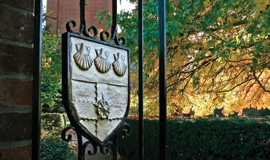 Students seeking to practice law will benefit from two new courses being provided at the University of Reading following a new collaboration with the University of Law.
The new graduate courses which will be offered at Reading's London Road campus are designed to prepare students for practical work in Law. From September 2017, a postgraduate Legal Practice Course (LPC) will be available for students with a law degree; and the following September (2018) a graduate diploma in Law will also be open for students with other degrees.
Professor Susan Breau, Head of the School of Law at the University of Reading said:
"Our undergraduate degree and postgraduate masters courses are designed to prepare students to work in the legal profession. With law graduates in high demand we look forward to the opportunities that collaboration with the University of Law will bring, and to continuing to develop a strong professional and academic Law offer here at the University of Reading".
Professor Andrea Nollent, Vice-Chancellor & CEO at The University of Law, said:
"We are delighted to announce this collaboration with the University of Reading, which is testament to The University of Law's continued commitment towards delivering increased access to legal education for aspiring law professionals.
"Combining ULaw's standing as the top ranked institution for student satisfaction in the UK with the University of Reading's world-class reputation, we believe our collective strength will equip students looking to enter the legal profession with the very best skills needed to succeed in a competitive market."
Visit http://www.reading.ac.uk/law for more details about the University of Reading's range of courses in Law.
School of Law
The University of Reading, rated among the UK's most research intensive institutions and one of the UK's largest campus universities. We are ideally located in the thriving town of Reading, just 30 minutes by train from London, and at the heart of the employment-rich Thames Valley region. University of Reading students benefit from a dynamic and international learning environment, high quality teaching and courses supported by the latest research, state-of-the-art facilities, opportunities to gain practical real-world experience and our links with graduate employers.
University of Law
The University of Law is the UK's longest-established specialist provider of legal education for prospective lawyers and professional development training for those already qualified. With a rich heritage and a reputation for innovation and contemporary teaching practices, they are dedicated to promoting the advancement of legal education and the study of law.