Inspired by views of Earth from space - Reading in the news Mon 22 May
22 May 2017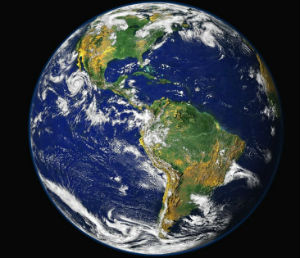 Here is today's round-up of media coverage of the University of Reading.
Inspiring space science: Professor Chris Scott (Meteorology) shared some words that inspire him – a quote by Carl Sagan about Earth viewed from space – on BBC Radio Berkshire (1 hr 18 mins 25 secs).
Future health: The Mail on Sunday quotes Professor Richard Tiffin (Agri-Environment) in a story on how childhood obesity rates indicate the likelihood of an unhealthy elderly population in the future.
Brain foods: Reading research (Food and Nutritional Science) on the health benefits of orange juice and blueberries feature in a list of foods that keep your brain sharp in the Telegraph. A similar article in the Express mentions research on sourdough bread being good for those with IBS.
Indoor air quality: An article in Building Talk refers to a study by Professor Hazim Awbi (Built Environment), which revealed an 80% increase in asthma cases due to poor indoor air quality.
Bee count: Professor Simon Potts (Agri-Environment) is quoted in a campaign by Friends of the Earth encouraging members of the public to help preserve the bee population by observing bees visiting their gardens and making changes to help them thrive. This is reported by Green Watch.
Community building project: Get Reading reports on the collaborative project, involving the University of Reading Participation Lab, which saw students at the John Madesjski Academy build a house out of giant toy building blocks to promote community participation in planning processes.
Other coverage