True scale of autism in India suggested in new study
26 May 2017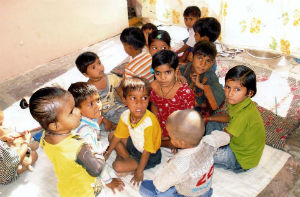 More than one million children in India are living with autism spectrum conditions (ASC), according to the largest study of its kind ever undertaken.
Yet health experts say that the scale of the issue could be even larger, with large numbers of autistic children likely to be hidden outside the school system.
The new study, published this week in Autism Research, looked at a sample of nearly 12,000 school children in Kolkata, India, and found that a weighted estimate for the broad autism spectrum disorders was around 0.23%.
The research was led by Professor Bhismadev Chakrabarti, Research Director of the Centre for Autism at the University of Reading, UK. He said:
"This paper provides for the first time a clear picture of the prevalence of ASC in India using standardised assessment tools. The conservative estimate suggests that more than one million school-going children have ASC, many of whom are likely to be without a diagnosis.
"Our estimate is likely to be lower than the real figure. One in five children does not go to school, and these children are likely to have a higher rate of autism than among those that do."
The estimates are based on ongoing work conducted by Professor Chakrabarti and colleagues from the Centre for Autism at the University of Reading, who were awarded £585,000 in Medical Research Council funding earlier this year to look at cost-effective, scalable tools for detecting autism risk in India.
Professor Chakrabarti added:
"Autism can cause social isolation and a poorer quality of life for children and their families, and not having a diagnosis in time can reduce the chances of improvement later on through interventions. That's why at the Centre for Autism at the University of Reading we are currently working with an international team of collaborators to develop tools to help detect autism risk early in a child's life."<!--[if !supportAnnotations]--><!--[endif]-->
"Many parents are unaware that, if their child misses certain developmental milestones, it could be an early warning sign for ASC. This avoidable delay is a tragedy in light of the evidence that simple, early interventions, delivered by healthcare workers and with help from parents, can lead to significant improvements for children and their families."
Full reference:
Rudra, et al., 2017. Prevalence of Autism Spectrum Disorder and Autistic Symptoms in a School-Based Cohort of Children in Kolkata, India. Published in Autism Research. http://onlinelibrary.wiley.com/doi/10.1002/aur.1812/epdf