International Space Station, Panama dictators, and blueberries: Reading in the News - 31 May
31 May 2017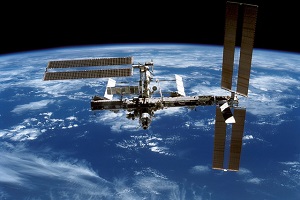 International Space Station: Kathie Bowden (IEA) was interviewed on BBC Radio 4's Today programme (1 hour 18 in) from the UK Space Conference discussing the skills gap challenging the UK's £13bn Space Sector, and highlighted the vast array of skills and backgrounds that support missions to the International Space Station.
How soil forms: Emeritus Professor Steven Nortcliff (GES) appeared on a BBC 4 show 'Deep down and dirty: The Science of Soil' talking about how soil is formed from rocks.
Manuel Noriega: Dr Tom Long (Politics and IR) spoke to Al Jazeera UK channel and Arabic channel about the death of former Panama dictator Manuel Noriega.
Antibiotics: BBC Berkshire (40 mins in) spoke to Dr Simon Clark (SBS) about news that an antibiotic has been modified to treat so-called 'superbugs', according to a new study reported widely in the news.
Reducing carbon emissions study: Times of India report on research showing how reducing carbon emissions can prevent billions of people from being exposed to unheard of changes in climate in the coming decades. Prof Ed Hawkins (Meteorology) was involved in writing the paper. Read our story here.
Other coverage
Forward and Cleveland Jewish News report on a typeface that combines Hebrew and Arabic designed by a UoR graduate Liron Turkenich.
A lecture by Prof Jorge Guira (Law) about oil and gas exploration in Guyana is reported in iNews Guyana.
A study by Professor Claire Williams (Psychology) about the positive effect of blueberries is mentioned in a list of foods to help cognition, in Delicious.
Continuing coverage of a Reading study (Food and Nutritional Sciences) showing dairy products do not increase the risk of heart attack or stroke, in Natural News.
Further coverage of Reading Met graduate Tomasz Schafernaker being voted Britain's favourite weather forecaster in a Radio Times poll, in Gay Star News.
<!--[if !supportLists]-->