Nostalgic art project takes Britain back to its best – or should that be worst?
20 May 2017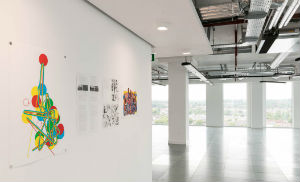 A radical remedy for 'Broken Britain' will be presented at a nostalgic art exhibition this weekend – the latest instalment in the Reading International series.
Drawing on memories of 1970s British holiday camps, the artists present Britlins – an idyllic vision of Britain in years gone by, as seen through the eyes of a fictional out-sourced conglomerate.
CRASH! presents 'A Better Britain II: Britlins' runs from 27 May to 15 July on the 10th floor of the Thames Tower, next to Reading railway station, where visitors can also enjoy panoramic views over the town.
The CRASH! team consists of artist and designer Scott King and Matt Worley, Professor of Modern History at the University of Reading. Visitors to the exhibition will be able to get their hands on a book, itself a throwback to 1970s annuals for teenagers. Inspired by family holiday camps of years gone by, it lays out mock plans for a future Britain, designed in collaboration with designer Frazer Muggeridge, an Associate Lecturer in the University's Typography department.
"It feels like if people can't think of a better future then they look for a better past" - Professor Matt Worley, University of Reading
Professor Worley, who wrote the text for the Britlins book, said: "If you are struggling to decide which way to vote on June 8, then at least you can come along to the exhibition and see one possible version of Britain's future.
"Our approach has always been a critique, and this project is a critique of some of the political and social themes swirling around at the moment.
"We felt much of the debate around Brexit and ahead of the General Election was nostalgic. It feels like if people can't think of a better future then they look for a better past. There's a sense of the UK looking back. We wanted to explore one particular version of the past that we thought certain people would recreate, given the chance."
The artists have created a select group of maverick MPs, small business owners and ageing celebrities, known as The Conglomerate, who propose a way to mend Britain's broken society system by turning back the clock to restore the magical days of their youth.
Inferring Brexit, the upcoming General Election and other themes, the exhibition presents The Conglomerate's vision of a society where 'neighbours all mucked in together and summer seemed to last forever'.
The dystopian exhibition, supported by Landid & Brockton Capital, which developed the Thames Tower, will include mocked up blueprints for new towns, based on the actual architect plans for British family holiday camps in the 1970s.
Previous CRASH! Art projects have included 1997's critique of lad culture (Death to the New) and the exploration of how leftist iconography has been appropriated by capital (Prada Meinhof).
James Silver, Development Director at Landid, said: "We're proud to host CRASH! - one of Reading International's many art exhibitions across the year in Thames Tower, our landmark office development in Reading. We welcome the public to come and visit the space and whilst you're there - enjoy the view!"
About Reading International
Reading International aims to bring world-class art to the Reading public in prominent and unusual locations, offering new ways for people of all ages and backgrounds to engage with art.
Reading International is co-directed by Professor Susanne Clausen, Head of the University's Art department and former Turner Prize judge and curator Dr Andrew Hunt.
Previous Reading International projects include Artangel's critically-acclaimed 'Inside: Artists and Writers in Reading Prison' in late 2016, and 'Eggy and Seedy', which featured paintings by world-class artists exhibited in a greasy spoon café, a radio play, a gig in the Facebar and artist-designed banners Broad Street.
About Thames Tower
Developed by a joint venture between Landid and Brockton Capital, Thames Tower completed in May 2017 and offers 195,000 sq ft of flexible, design-led contemporary office space.