University submits planning application for next building at Thames Valley Science Park
08 November 2017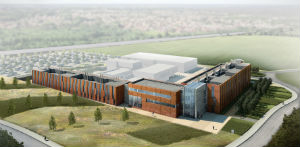 The University of Reading has submitted a planning application for the next building at the Thames Valley Science Park.
Plans were submitted to Wokingham Borough Council for the new building, which will provide more than 40,000 square foot of specialist space for innovative technology based companies that are researching and delivering cutting-edge new products.
The third building of phase one will form an extension to the existing 'Gateway' building, which is set to complete late this year, with tenants moving in from early 2018.
The £35 million 'Gateway' building will open fully occupied, providing 70,000 square foot of space for around 20 companies who are to be the first tenants of the Science Park. These include companies such as Biointeractions, Covance, Sage People and Clasado BioSciences.
The second building, an innovative cancer treatment centre being built by Proton Partners International Ltd, is under construction and is expected to open during 2018. The company is investing £30 million to build its own purpose-built centre which will help to meet growing demand for proton beam therapy, a specialised type of cancer treatment that is not yet available in the UK.
David Gilham, Director of Thames Valley Science Park, said: "The University is incredibly proud to be bringing this dedicated science park to the Thames Valley region. The plans for a third building on site reinforce our commitment to bringing together innovative like-minded companies who have an ability to make a genuine difference to the local region and the wider world."
"We are opening our first building fully occupied and I'm pleased to say we're already attracting interest for this next building."
The Thames Valley Science Park will eventually deliver approximately 800,000 square foot of flexible laboratory and office space in a campus style setting designed to encourage collaboration. Once completed, the Science Park will have the potential to provide up to 5,000 new jobs.
Earlier this year, outline planning consent was granted for the second phase of the Thames Valley Science Park. Wokingham Borough Council approved the conceptual plans for a further approximately 15 buildings on the remaining 600,000 square foot of the site, to be developed as and when required over a 20 year period.
The initial investment in the 'Gateway' building includes £30 million from the University of Reading, who owns the Science Park, and £5 million from the European Union's European Regional Development Fund.
For more information on the Thames Valley Science Park, visit www.tvsp.co.uk