Vegan diets and reducing flood risk - Reading in the news Thu 2 Nov
02 November 2017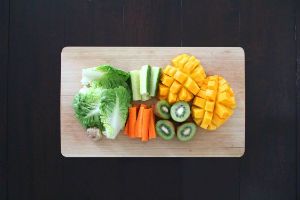 Here is today's media report.
Vegan diet: Features exploring what changes occur in your body if you change to a strict vegan diet, and quoting Emeritus Professor Ian Rowland (Food and Nutritional Sciences), appear in the Independent, South African websites IOL and SAfrica24.
Flooding research: Research that has received more than £1m funding from NERC and will explore how changes to landscape management measures such as planting trees and different crops could help reduce flood risk was explained by Dr Martin Lukac (Agri-Environment) to BBC Radio Berkshire in its news bulletins on Thursday morning. Dr Joanna Clark was interviewed in more detail (1 hr 42 mins 45 secs) on the project, alongside representatives from other flood authorities. Read our news story.
Beckett Fellowship: The Reading Chronicle reports the announcement of the Samuel Beckett Research Centre's first Creative Fellow, author Eimear McBride. Read our news story.
Interest rate rise: Dominic Swords, Visiting Professor of Economics at Henley Business School, was interviewed by BBC Radio Oxford (1 hr 12 mins 50 secs) on the possibility of UK interest rates being raised. Dr Marina Della-Giusta (Economics) was also interviewed by Heart Radio Berkshire.
UN peacekeeper abuse: BBC Radio Berkshire (1 hr 50 mins 55 secs) interviewed Professor Rosa Freedman (School of Law) on her upcoming ESRC Festival of Social Science events looking at UN reform.
Food trends: Matt White, Director of Catering, Hotel and Conference Services at the University of Reading, was interviewed by Stir It Up Magazine about the new food trends appealing to young adults.
Other coverage
Phys.org reports on the new super-resolution microscopy technique developed by Reading scientists (Pharmacy) that is allowing them to learn more about immunity processes within cells. Read our news story
The vision for Reading in 2050, developed by the University alongside several partners, is referenced in a Get Reading article on Reading improving in the UK 'Smart Cities' survey