Global temperatures and Brexit 'culture wars' – Reading in the news Tues 7 Nov
07 November 2017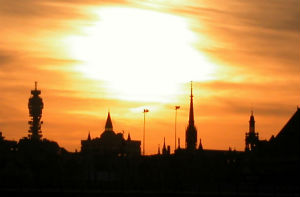 2017 temperature: The World Meteorological Organization (WMO) published its annual report yesterday showing 2017 was likely to be in the top three warmest years on record. A quote provided by Professor Richard Allan (Met) is used in several articles, including BBC, The Times (£), DotEmirates and Times Mumbai.
Brexit 'culture wars': Sir David Bell provides comment for an article in Times Higher Education on the topic of the 'culture wars' that have risen since the Brexit vote, the role of the media in the generally negative view of universities at the moment, and, in turn, how that may impact Government funding for universities in the future.
Young Person of the Year: Carly Newman was named Young Person of the Year at the Pride of Reading Awards on Friday night, Get Reading reports. The category was sponsored by the University and Pro-Vice-Chancellor Professor Robert Van de Noort is quoted praising the 20-year-old.
Scientific advisory board announcement: Professor Jeffrey Almond, Reading Visiting Professor (Microbiology), has been named as a member of a new scientific advisory board created by clinical research company Ernest Pharma. This is reported in dozens of places, including Biotechgate.com, FirstWordPharma.com, and KCTV in the US.
Blueberries study: Blueberries may improve concentration in children according to Reading research (Food and Nutritional Sciences), reports Food News International in an article on its home page. Read our news story.
Microscopy advance: A Reading team's (Microbiology) new technique to study cell receptors using super-resolution microscope images is reported by EurekAlert, AlphaGalileo, Science Daily in the US and Innovations Report in Germany. Read our news story.
Climate justice lecture: PhD student Lydia Messling (Geography and Environmental Science) spoke to BBC Radio Berkshire (approx. 10 mins in) about this weekend's sellout public event on climate justice, arranged by the department as part of the ESRC Festival of Social Science. Read our news story.
Creative economy: Collections curator at The MERL, Dr Ollie Douglas, spoke on BBC Radio Berkshire (approx. 56 mins ins) about Monday evening's 2017 Annual Lecture at The MERL, focusing on the creative arts and their contribution to the economy. Read more about the event and its special guests.
Other coverage:
GlassOnWeb reports that the company behind the window and door refurbishment on the University's JJ Thomson and Maths buildings has been contracted to carry out work on the Wager Building, Allen Laboratory and RUSU building.
Third year student Jack Gilliam will represent Wales in the British Council's Future Leaders Connect programme, reports his local paper the County Times
BreezeFM reported that Launchpad, a charity supporting the homeless founded by University of Reading students, has celebrated its 38th birthday
University Chaplain Revd Mark Laynesmith delivered BBC Berkshire's 60-Second Sermon on Sunday morning (approx. 46 mins in)
Reading graduate (FTT) Reina-Marie Loaded cites the University in her bio text in a book review of The Environmental Documentary: Cinema Activism in the 21st Century, by John A Duval on the LSE US Centre's daily blog on American Politics and Policy.
WOR AM Radio in New York explained Reading research looking at how cocoa can help reverse the ageing process in the brain