New exhibition explores Beckett's journey through Nazi Germany
08 November 2017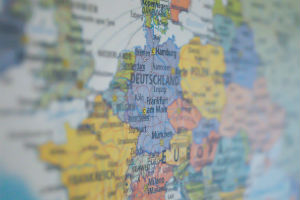 The journey through Nazi Germany taken by Samuel Beckett in 1936-37 is the focus of a new exhibition opening this week in Germany, featuring some of the writer's actual diaries from the time.
Arranged in cooperation with the University of Reading, 'German Fever. Beckett in Germany' opens at the 'Literaturmuseum der Moderne' (Museum of Modern Literature), Marbach am Neckar, on Wednesday 8 November.
Beckett's engagement with German art, literature and language is evident in the German Diaries he kept during his extensive journey through Hitler's Germany from September 1936 to April 1937. They also contain his impressions of Germany during the early years of National Socialism, and show his interest in persecuted artists.
Dr Mark Nixon, co-director of the Beckett International Foundation and an academic involved in the new Samuel Beckett Research Centre at the University of Reading, is author of Samuel Beckett Diaries 1936-1937, which looks at Beckett's diaries and how his journey through Nazi Germany influenced his development as a writer. He has also co-written the catalogue of the exhibition with Dirk Van Hulle, of the University of Antwerp.
Dr Nixon said: "Samuel Beckett was one of the last prominent artistic figures to travel through Nazi Germany before the Second World War changed the country forever. The views on German society and politics he recorded in his unpublished diaries are therefore incredible valuable and insightful to a significant period in world history.
"The 'German Fever. Beckett in Germany' exhibition explores his observations, and also looks at how Germany remained a subtle presence in his work for years afterwards."
'When it's coming up to Xmas I get the German fever', Samuel Beckett wrote to his friend Thomas MacGreevy in 1932. This exhibition examines Beckett's life-long engagement with German art, literature and language. It sheds light on Beckett's extensive reading of classical writers such as Goethe, Schiller and Hölderlin, his engagement with German visual artists from Albrecht Dürer to the Expressionists, as well as his observations on the reality within National Socialist Germany.
The exhibition also tells the story of his famous productions at the Schiller Theatre in Berlin from the 1960s to the 1980s – in particular of Waiting for Godot (1975) – and his works for television at the Süddeutscher Rundfunk in Stuttgart. Furthermore, the exhibition documents Beckett's close relationship with his publisher Siegfried Unseld, his German translator Elmar Tophoven and the important role played by the Suhrkamp Verlag in introducing the writer's work to German readers.
The exhibition presents 150 items, manuscripts, letters and two of his German Diaries notebooks, many of which are being shown in public for the first time.
The exhibition was conceived by Dirk Van Hulle and Mark Nixon, curated by Ellen Strittmatter, Director of Museums, together with Johannes Kempf, Magdalena Schanz, Moritz Schumm and Marc Wurich, and designed by Agentur südstudio (Hannes Bierkämper, Anja Soeder and Alexander Lang). Graphic design is by Clemens Hartmann.
The bilingual (German/English) catalogue of the exhibition was written by Dirk Van Hulle and Mark Nixon:
Marbacher Magazin 158.159; Mark Nixon / Dirk Van Hulle: 'German fever. Beckett in Deutschland / Beckett in Germany'. 248 pages, with several colour facsimiles. 2017. ISBN 978-3-944469-30-0. EUR 20,00. Essays in English and German.
About the Samuel Beckett Research Centre
The Samuel Beckett Research Centre launched in May 2017. It brings together academics and writers at the University of Reading to promote world-leading research, teaching and creative projects based around the University's internationally-recognised Beckett Archive. It hosts collaborative writing, discussion and debate led by specialists from the departments of English Literature, Film, Theatre and Television, Modern Languages and Philosophy.
A key aspect of the Centre's work is the support and funding of fellowships and scholarships with the aim of producing new creative work inspired by Beckett, such as radio and television plays, films, musical composition and visual art, alongside novels and short stories. Award-winning author Eimear McBride was announced as the centre's inaugural Samuel Beckett Creative Fellow in October.
An annual programme of public events will be held at the Centre around a theme in current affairs that links to Beckett's work. The inaugural research themes for 2017-19 are Beckett and the Environment, and Beckett and Europe.
The activities are based around the internationally-recognised Beckett Archive hosted by the Beckett International Foundation. Amongst the latest acquisitions at the Archive, located in the University of Reading's Special Collections, is the original Murphy manuscript, comprising six notebooks relating to Beckett's first published novel, and the archive of the pre-eminent Beckett actress, Billie Whitelaw.