Art, religion and how Brexit is impacting Britain's business schools – Reading in the news Weds 8 Nov
08 November 2017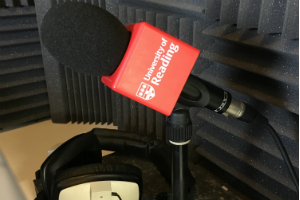 Art and religion: A Guardian review of the new Living with the Gods exhibition in the British Museum mentions the work of Professor Steve Mithen (Deputy Vice-Chancellor), who has written a book looking into the origins of art, religion and science and how this impacts on how our minds function today.
The impact of Brexit on Britain's business schools: Prof John Board (Henley) speaks to the FT about the supposed talent drain on British business schools following the Brexit vote.
Ben Nevis weather data: Scientific American covers the citizen science project, led by Prof Ed Hawkins (Met), looking to digitally catalogue weather records from Ben Nevis from the 1800s. The story is also syndicated on Chinese site Atman.
Microscopy advance: A Reading team's (Microbiology) new technique to study cell receptors using super-resolution microscope images is reported by BBC South. Read our news story.
New accommodation at Greenlands: The Henley Standard covers the opening of two new accommodation blocks at the Henley Business School's Greenlands campus following a £10 million project.
War Child exhibition: The University's War Child exhibition, based on research by Dr Teresa Murjas (Film, Theatre & Television) is featured in Get Reading's 'What's On' guide. The exhibition, which is part of the national 'Being Human' festival, launches on 17 November and will give attendees the chance to learn more about the stories of children evacuated from their homes during the Second World War. Register for the free event here.
2017 temperature: The World Meteorological Organization (WMO) published its annual report this week showing 2017 was likely to be in the top three warmest years on record. A quote provided by Professor Richard Allan (Met) is used on Nigerian website Blueprint.
Other coverage: