Reading graduate Penny Mordaunt gets Cabinet role - Reading in the news Fri 10 Nov
10 November 2017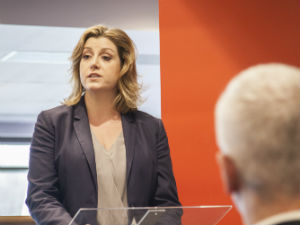 Here is today's round up of media coverage for the University of Reading.
Penny Mordaunt appointment: Penny Mordaunt, University of Reading Philosophy alumnus and MP for Portsmouth North, has replaced Priti Patel as Secretary of State for International Development. Profiles of Ms Mordaunt and coverage of her promotion have been run by ITV, BBC News, Express, The Independent and The Breeze FM, as well as extensive coverage of a Press Association article published in more than 300 local and regional papers. Read our news story about Ms Mordaunt's visit to Reading to officially rename the Edith Morley building and present the Edith Morley lecture.
Secret history of the Berlin Wall: Professor Patrick Major's (History) 2009 BBC article on the 'top secret manoeuvres' involved in building the Berlin Wall has been reproduced online by History Extra.
University rankings: BBC News reports that The Advertising Standards Authority (ASA) is to warn universities over misleading claims used in advertising to prospective students. The article references the University of Reading's removal of its 'top 1%' claim earlier this year as well as other universities agreeing to clarify similar claims. BBC Radio 4 (2 hrs 7 mins 35 secs) and BBC Radio Berkshire also ran the story. Read the University's statement on the June ruling here.
Other coverage
BBC Radio Berkshire (39 mins, 56 secs) discussed the plans for a new building at the Thames Valley Science Park, owned by the University of Reading
Wired Gov and 4Traders reference Ella's Kitchen (working with the University of Reading) as an extra £30 million of funding for Knowledge Transfer Partnerships (KTPs) is granted
Prof Ed Hawkins (Met) is leading a campaign to digitally catalogue weather records from Ben Nevis from the 1800s, following the new installation of a weather station atop Ben Nevis. Newscaf reports and read our story here
The European Centre for Medium-Range Weather Forecasts (ECMWF) today launches its latest seasonal prediction system, SEAS5. Project lead Rebecca Emerton, a flood forecasting PhD researcher at the University of Reading and visiting scientist at ECMWF, is quoted in Market Insider and Tagesbote articles, and 153 other world media outlets, on the benefits of global predictions
Nicola Wilson's 2016 book, The Book World: Selling and Distributing British Literature, 1900-1940, has been reviewed by Patrick Collier on ProjectMuse. A symposium in 2012 and letters held at the University of Reading's Special Collections archive supported some of the essays within the book