Watch Alastair Campbell talk mental health and politics live at his sold-out lecture
15 November 2017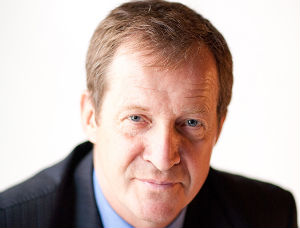 Former Labour Press Secretary and inaugural Downing Street Director of Communications and Strategy, Alastair Campbell, will deliver a sold-out lecture on mental health and politics to hundreds of University of Reading staff and students.
In the latest of the 'Political Voices' seminar series, the University of Reading's Department of Politics and International Relations welcomes Alastair Campbell to the University to deliver the annual Peter Campbell Memorial Lecture.
Selling out weeks before the event, the free public lecture and subsequent Q&A will now be available to view live on Facebook. This will allow those who are unable to get a ticket to the event to ask Campbell questions online in real-time via the comments section.
In 'Campbell talks Campbell' Alastair will draw on his own experience of mental health issues, politics and the febrile nature of today's society. Campbell was one of the key architects of Tony Blair's 'New Labour' and supported both Blair and Gordon Brown over a decade-long political career. Whilst he is still active in political campaigning, Campbell splits his time between consulting, writing, public speaking and charity work. He is also editor at large of The New European and chief interviewer of GQ magazine.
Due to his personal experience of depression and addiction, and as a result of his brother Donald's lifelong struggle with schizophrenia, Campbell has become increasingly involved with mental health charities and causes. In 2009, Campbell was voted Mind Champion of the Year and now works as an ambassador for Time to Change, campaigning to end the stigma on mental illness.
Campbell said: "I want to change the lens on mental health and mental illness in several ways. First, to change the way we think and talk about it so that we finally win the battle for genuine parity of understanding, awareness and resources between physical and mental health. But also to speak up for the mentally ill not just as people needing support but as some of the greatest contributors to our life and times, progress and culture."
Earlier this month, Campbell was made an honorary fellow of the Royal College of Psychiatrists, whose outgoing chairman Sir Simon Wessely described Campbell as 'the best ambassador we have'. Last week, a documentary featuring Campbell, entitled 'Me and My Mental Illness', won the Mind Media Awards Documentary of the Year award.
Dr Mark Shanahan, Director for Teaching and Learning for the Politics and International Relations Department and the event organiser, said: "We are delighted to welcome Alastair Campbell to the University. As our latest influential speaker, we look to Campbell to help break down the barriers not only between students and politics, but also on mental health."
"As one of the biggest names in politics, despite never having been a politician, Campbell's unique insights into Parliament, Blair and mental health are not to be missed."
Alastair Campbell will become the latest 'Political Voice' to hold a public lecture at the University of Reading in 2017. House of Commons Speaker John Bercow MP made headlines when he visited in February, and he was followed by former UKIP MP Douglas Carswell in April and Labour MP Jess Phillips in November.
This lecture has been organised in memorial of Professor Peter Campbell, the founding head of the Department of Politics and International Relations at the University of Reading, who passed away in 2005. Peter Campbell was also the founder of the Conservative Group for Homosexual Equality (CGHE) and a vice-president of the Electoral Reform Society.
The Peter Campbell Memorial Lecture will start at 6:15pm on Monday 20th November 2017 and will be livestreamed from the Van Emden Lecture Theatre on the Department of Politics and International Relations Facebook page.
Advice and support is available to any students affected by issues surrounding mental health from the Student Wellbeing Services team. Visit Room 106 in the Carrington building, call 0118 378 4216 / 4218 or visit http://student.reading.ac.uk/essentials/_support-and-wellbeing.aspx.
Image credit: Alastair Campbell by Cambridge Jones