University submits revised plans for redevelopment of St Patrick's Hall
16 November 2017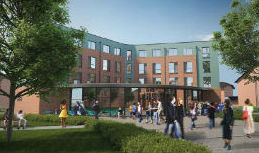 The University of Reading, in partnership with its accommodation provider University Partnerships Programme (UPP), has submitted plans to Reading Borough Council to redevelop St Patrick's Hall.
The multi-million pound investment responds to growing demand from students for high-quality accommodation located on or near Whiteknights campus. The proposed development would provide an additional 702 bedrooms, bringing the total capacity to 884 bedrooms. Students will benefit from a range of accommodation styles at a variety of rents.
Following the local listing of Pearson's Court in October 2016 the University and UPP withdrew the original application to redevelop St Patrick's Hall. Since the withdrawal of the previous application, the University and UPP have developed an alternative scheme, which will retain Pearson's Court and redevelop the remainder of the site.
Subject to planning permission, the revised plans will complement the original buildings and retain the site's existing heritage, whilst transforming the facilities for future students. The rooms will be arranged as cluster flats and townhouses and will include a mix of en-suite rooms and those with shared bathrooms. A new courtyard has been proposed along with a new Student Hub, which will contain a refectory and bar function.
Construction would aim to begin in spring 2018 and be delivered over two phases with an expected completion date of summer 2020.
Vice-Chancellor, Sir David Bell, said: "The University of Reading continues to grow and attract students from the UK and the wider world. We must continue to improve our campuses, including our halls of accommodation, to ensure we are providing students with first-class facilities.
"The redevelopment of St Patrick's Hall is the next stage in the modernisation and refurbishment of our halls. We have listened carefully to feedback from staff, students and the local community. Our revised plans address concerns raised by local residents around privacy and student behaviour, whilst maintaining the site's existing heritage."
Sean O'Shea, Group Chief Executive Officer at UPP, said: "We are delighted to have supported the University of Reading's proposals for the redevelopment of St Patrick's Hall. This application will build on the £100m investment that has already occurred via our partnership with the University. The submission of the planning application is another step forward in this close relationship and we are excited to now take these plans into the next phase."
Students, staff and members of the local community were invited to view and comment on the plans at a public exhibition held on Thursday 26 October at St Patrick's Hall common room. This public exhibition follows an extended period of consultation that has seen the University and UPP make a number of significant changes in response to feedback from the community.
This project follows five years of significant investment in the University's student accommodation - with £100 million being spent to increase overall capacity by 1,500 rooms to almost 5,000.