Alastair Campbell talks mental health - Reading in the news Tue 21 Nov
21 November 2017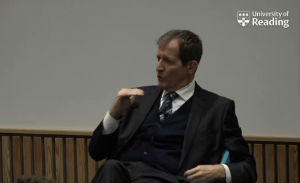 Here is today's media report.
Campbell on Campbell: Alastair Campbell's public lecture at the University of Reading on Monday evening was mentioned on BBC Radio Berkshire, at the end of an interview with the former Downing Street Director of Communications that morning as part of their regular mental health discussion. Read our news story here, or watch a video of the lecture here.
Mugabe impeachment: Dr Heike Schmidt spoke to Sky News on Sunday and LBC radio on Monday about efforts to remove Robert Mugabe as President of Zimbabwe.
Weather rescue: Professor Ed Hawkins (Meteorology) spoke to the Paul Hudson Weather Show on BBC Radio Humberside (13mins 20secs), and other north east BBC stations, about the Weather Rescue Project he is carrying out with NCAS, digitising weather observations recorded by a team who lived on top of Ben Nevis more than 100 years ago. Read our news story.
Autism study: A sensory perception study in children is being carried out by the University of Reading. Dr Teresa Tavasolli (Psychology) was interviewed on BBC Radio Berkshire (39 mins) about the autism study.
Other coverage
BBC Radio 4 (25 secs) Curious Cases of Rutherford and Fry (a repeat aired overnight on Saturday) turned to Dr Keri Nicoll (Meteorology) to answer a listener's question of how high a helium balloon can travel, by launching one from the University of Reading
Beetroot is good for physical performance, rest and improves circulation to the brain, according to Reading research referenced on WOR AM Radio in New York
BBC Radio Berkshire (1hr 39mins 15secs) debated the relationship between Christianity and Science ahead of an event with Christian conference speaker and University of Oxford Professor of Maths Professor John Lennox at the University of Reading on Saturday