Two VCs, one Roman temple but no UK ICJ place - Reading in the news Wed 22 Nov
22 November 2017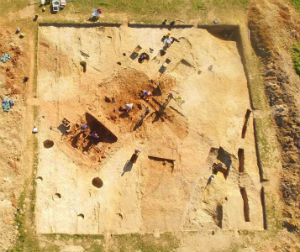 Here is today's media report.
Changing face of HE: University of Reading Vice-Chancellor Sir David Bell was interviewed by the Guardian on how university education must evolve, in its latest 2VCs On… feature.
UK loses ICJ place: Professor Rosa Freedman (School of Law) wrote a piece for Quartz India on Britain losing its place on the International Court of Justice to India this week.
Nero temple discovery: A Roman temple unearthed at the Archaeology Field School in Silchester could have been built by the infamous Emperor Nero and be one of the earliest known buildings of its type. Professor Mike Fulford (Archaeology) spoke to BBC Radio Berkshire (approx 2 hrs 45 mins in) about the find. Read our news story.
Mugabe resignation: Reading PhD student Alice Mpofu-Coles (Politics and International Relations), who fled Zimbabwe with her family during Mugabe's reign, gave her reaction to his resignation to BBC Radio Berkshire (approx 1 hr 27 mins in) on Tuesday evening.
St Pats: ITV Meridian mentioned Reading's proposed redevelopment of St Patrick's Hall on Tuesday evening.
Child evacuee archive: Dr Teresa Murjas (FTT) spoke to BBC Radio Berkshire (approx 1 hr in) about her upcoming War Child exhibition, featuring items from the University's Special Collections. The exhibition is part of the Being Human Festival – read our news story here.
Other coverage
Professor Kate Williams (History) was interviewed on CNN about the Queen's 70th wedding anniversary
A third-year Politics and International Relations student gave his thoughts to BBC Radio Berkshire (approx 10 mins in) on the Budget ahead of the Chancellor Phillip Hammond's speech on Wednesday
Environment Research Web reports on research led by Dr Nat Melia (Meteorology) to make seasonal predictions of shipping routes through Arctic sea ice
The University of Reading's Pathways to Property scheme, run by the Reading Real Estate Foundation (Henley Business School) is mentioned in an article on Property Week, looking at a lack of diversity in the property industry