Student sushi stands on European food prize podium
22 November 2017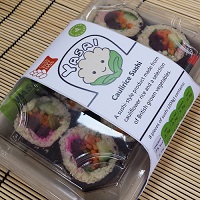 A low calorie version of sushi created by University of Reading students has won a silver medal in a European food innovation competition at this year's Food Matters Live.
The 78 calorie sushi which uses cauliflower rice and fresh vegetables had previously won a nationwide Ecotrophelia competition. The product, called Yasai Caulirice Sushi, was judged by a dragons den-style panel and their creators won the chance to represent the UK in a EU-wide final along with a share of a £3500 prize.
Natasha Patel from the Yasai Caulirice Sushi team said:
"It feels surreal to get a silver medal the European competition among some incredibly strong entries across Europe. After winning the UK competition, our team worked with mentors from the IFST, Marks and Spencer, Coca-Cola, Sainsbury's, Mondelez International and Campden BRI to make Yasai Caulirice as strong as it could be and we're grateful for their amazing advice which contributed to the prize."
Team member Pavandeep Matharu adds:
"It's great to see our idea grow from a university project to a successful final product. We looked into the growing trends of veganism, and replacing carbohydrates with vegetables to create a lower calorie lunch. We would like to thank the University for their continued support throughout this competition."
Ecotrophelia
Now in its fifth year, Ecotrophelia challenges teams of students from across Europe to develop an innovative, eco-friendly food and drink product. Each participating country then holds a national competition, in which a panel of food expert judges carefully assessed a record number of entrants before picking the final five.
Dr Maria Jose Oruna-Concha from the Department of Food and Nutritional Sciences, University of Reading said:
"We're thrilled for the Yasai Caulirice Sushi team for creating a product that stood out to the judges at both national and European level. It's testament to the hard work of our students, and the broad range of courses that the teams are made of including food and nutritional sciences, business, and marketing, to have such a strong showing in the final."
Professor Richard Frazier, Head of the Department of Food and Nutritional Sciences at the University of Reading said:
"Food sciences have had a long and distinguished place here at Reading, and I'm delighted that our students are once again recognised among the most innovative in the country. Our expertise and facilities provide students with a real experience of the kind of work that happens in industry, and we're proud of our relationships across the sector that means that more than 96% of our students are working or in further study after graduation."