Barclays to support new business innovation space at Thames Valley Science Park
23 November 2017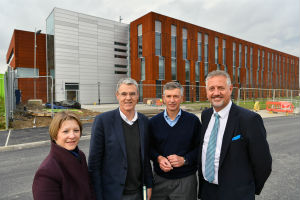 Barclays has signed a major partnership to support entrepreneurs and growing businesses based at the Thames Valley Science Park.
Innovation Catalyst is a collaboration between VitalSix, a specialist in supporting growing businesses, and Thames Valley Science Park, now also in partnership with Barclays Eagle Labs.
Launching formally in March 2018, Innovation Catalyst supported by Barclays Eagle Labs' will give entrepreneurs and start-up businesses access to a 60 seat co-working space in the University of Reading's Thames Valley Science Park. The philosophy behind the shared space is to encourage collaboration and foster innovation among Reading and the Thames Valley's entrepreneurial business community.
Innovation Catalyst will also deliver intensive Accelerator programmes, the first of which is a sixteen-week programme supported by Barclays Eagle Labs, with access to extensive resources including expert mentoring. Applications for the Barclays Accelerator will be accepted soon.
David Gillham, Director of Thames Valley Science Park said: "The Thames Valley is renowned internationally as a centre for innovation and knowledge based companies. As a partner in Innovation Catalyst, Thames Valley Science Park shares the vision to create a much needed anchor for innovation; it is the physical centre of a virtual community to bring closer together businesses, the University of Reading, investors, expertise and more. At Thames Valley Science Park we take a supportive, flexible approach - specialist facilities and the dynamic mix of companies already here make this an exciting place for ambitious companies to grow."
Stephen Grenfell, Barclays' Area Business Manager, for Reading and Thames Valley said: "We're pleased to be partnering with Innovation Catalyst to deliver our Accelerator programme which creates a platform for experimentation with entrepreneurs, to build new products, services and platforms. The Eagle Lab will take our relationship with local entrepreneurs one step further, providing them with access to our specialist high growth team, and the tools and resources that will help them grow. We're committed to this customer-focused approach, so that businesses are able to innovate at scale and we look forward to working with Innovation Catalyst and the first cohort of entrepreneurs starting in February 2018."
Susan Elliott, Managing Director of VitalSix Ltd said: "Innovation Catalyst was founded to make a difference in helping to bring to life new ideas and support scale up businesses to go further, faster. Reading and Thames Valley is thriving with a booming start-up scene driven by ambitious independent entrepreneurs, and we work with businesses of all sizes and at all stages of growth from early stage through to large corporates. We are therefore delighted to secure this partnership with Barclays Eagle Labs' and look forward to combining great ideas and ensuring that the right expertise and sources of funding are available on the doorstep."
Reading is the fifteenth Eagle Lab Barclays has opened, after success in locations such as Bournemouth, Salford, London and Cambridge. Access to a national network of Barclays Eagle Labs will provide a wealth of opportunities for businesses to expand beyond Thames Valley as well welcoming businesses from other locations.
The £35 million 'Gateway' building, which is set to complete late this year with tenants moving in from early 2018, will provide 70,000 square foot of space for around 20 companies who are to be the first tenants of the Science Park.
The Thames Valley Science Park will eventually deliver approximately 800,000 square foot of flexible laboratory and office space in a campus style setting designed to encourage collaboration. Once completed, the Science Park will have the potential to provide up to 5,000 new jobs.
The initial investment in the 'Gateway' building includes £30 million from the University of Reading and £5 million from the European Union's European Regional Development Fund.
For more information on the Thames Valley Science Park, visit www.tvsp.co.uk