University wins award for sustainability achievements
30 November 2017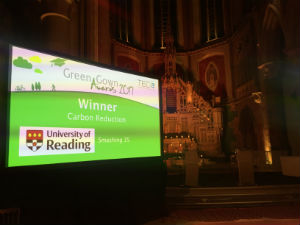 The University of Reading has won a prestigious Green Gown Award for its achievements in reducing carbon emissions.
At an awards ceremony held in Manchester on 15th November, the University was named the winner of the Carbon Reduction category. The annual Environmental Association for Universities and Colleges Green Gown Awards are a celebration of sustainability achievements across the higher education sector.
In December 2016, Reading hit its target of reducing carbon emissions by 35% compared to a 2008/9 baseline, delivering a 63,000 tonne reduction of CO2 and £17.1 million in cumulative savings.
Green Festival
Last week, the University hosted its annual Green Festival - a week-long series of events designed to educate staff and students on green issues and to encourage them to become more environmentally sustainable in their everyday activities. This year's events included a talk on careers in the green sector, tours of the University's Energy Centre, a session on bike skills and David Attenborough Day, where students could watch back-to-back documentaries in the Students' Union.
Student Sustainability Award
As part of Green Week, the University Sustainability team launched the Student Sustainability Award, a new scheme to help students get involved with environmental issues that matter to them during their time at Reading. Students will have the opportunity to work with the Sustainability team to help shape the University's strategy for becoming more environmentally friendly. Activities are flexible and could include anything from producing a video or piece of writing to organising events on campus.
Any time spent volunteering as part of the programme can be used towards the Reading Experience and Development (RED) Award, which is a certificate awarded to students alongside their degree. It is designed to help students gain extra-curricular experience that will in turn help them to stand out from the crowd in an increasingly competitive job market.
Dan Fernbank, Energy & Sustainability Manager at the University of Reading, said: "Winning a Green Gown Award for our carbon reduction achievements is a great endorsement of how far we have come in the last few years. Our work to date has demonstrated that practical, cost effective solutions can be delivered on a large scale to make real impacts.
"The launch of our new Student Sustainability Award during our annual Green Festival is an exciting new step in enabling our students to take a central role in making the University a more environmentally friendly place to study and to work, and we look forward to supporting a new generation of sustainability advocates."
Sustainability achievements
In October 2017, the University was named among the top five universities in England for reducing its carbon emissions by the University Carbon Report 2015/16, published by sustainability consultants Brite Green.
More recently, Reading was also ranked joint 16th in the People and Planet University League 2017, which is a comprehensive and independent league table of UK universities ranked by environmental and ethical performance.
For more details on the University's Sustainability Services, please go to: www.reading.ac.uk/sustainability-services