Grenfell Tower Inquiry, Turbulence, and posters from the National Theatre: Reading in the News - 2 October
02 October 2017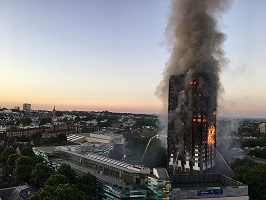 Grenfell Tower Inquiry evidence: Prof Laurence Harwood (Chemistry) has submitted evidence to the Grenfell Tower Inquiry following investigations done for BBC South's Inside Out programme airing this evening at 7.30pm on BBC 2. The tests have been reported on the BBC News Website, BBC Radio 4 (approx. 45 mins in), Radio 5 Live (approx. 2hr 10 mins in) and local BBC radio (approx. 8 mins in), Huffington Post, and Yahoo News. Read our news story here.
Turbulence: Business Insider, MSN Australia, and MSN Canada report on research by Prof Paul Williams (Met) about climate-induced turbulence – noting that early morning flights may experience worse turbulence than those later in the day.
National Theatre posters: Further reporting of an exhibition of posters from the National Theatre curated by Prof Rick Poynor (Typography) in the Guardian.
In other news:
BBC South's Sunday Politics show mentions the installation of the self-pour beer wall.
BBC Local Radio stations in Leeds, York and Humberside spoke to Prof Ed Hawkins (Met) about a citizen science project looking to digitally catalogue weather records from Ben Nevis.
The Tallahassee Democrat have interviewed Jeremy Spinks, a Creative Director of a US-based marketing agency, and notes that he has a degree in Typography and Graphic Communications from the University of Reading.
Radio New Zealand spoke to Professor Rhona Stainthorp (IoE) about a roadshow on phonics expertise ahead of a conference in New Zealand.
Comments by Matt White, Director of Catering, in the University Caterers Organisation report on trends in HE catering have been reported in Stir It Up Magazine.
FE News looks at improving satisfaction and the link with wellbeing, and mentions a project run at the University of Reading to build resilience in students.
Energy Management mentions work between the University of Reading and NPL, the tool developed by the UK's National Measurement Institute.
Retired Professor Hazim Awbi (CME) is quoted in the Henley Standard about air quality in rented homes.