Grenfell Tower Inquiry, participation rates in HE, and is four too young to start school? Reading in the News - 3 October
03 October 2017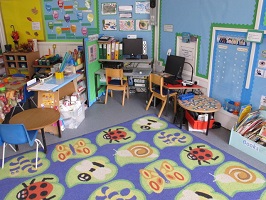 Grenfell Tower Inquiry evidence: Further coverage of news that Prof Laurence Harwood (Chemistry) has submitted evidence to the Grenfell Tower Inquiry following investigations done for BBC South's Inside Out programme. The story was covered on the BBC's One o'clock news, and in the Reading Chronicle and Phys.org. Read our news story here.
HE participation rates: Vice-Chancellor Sir David Bell writes in the Times Higher Education in reaction to new figures showing participation in Higher Education is nearing 50 per cent.
Is four too young for school?: Prof Helen Bilton (IoE) and Dr Helen Dodd (Psych) spoke to BBC Berkshire (approx. 21 mins in) about new research in childhood anxiety for children beginning primary school aged four.
In other news:
Image credit: 1st year classroom, Hallfield Primary School, cc-by-sa/2.0 © David Hawgood, geograph.org.uk/p/4684915